Valentine Heart Pin
Beaded Crafts
This Valentine heart pin is made using inexpensive tri-beads, a pipe cleaner, and some lacy ribbon.
The ribbon is weaved in between the tri-beads, resulting in a full, frilly look to the pin.
These are really fun to make, and even kids will be able to thread on the beads.
This pin will look wonderful on your sweater this Valentine's Day! It also makes a perfect gift for a teacher or a special friend.
Things Needed:

8 inch red pipe cleaner
lacy ribbon, approximately 3/4 inch wide
red tri-beads
small length of ribbon for the bow
fine wire
glue
pin backing of choice

1. Begin the pin by threading a red tri-bead on to the pipe cleaner. Next, thread the ribbon on to the pipe cleaner, through one of the lacy holes. Follow with another red tri-bead. Work near the end of the pipe cleaner, for easier threading. Continue by threading the ribbon on again, as shown below.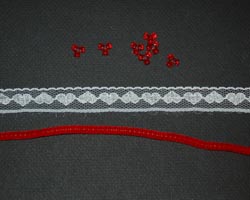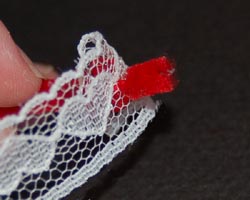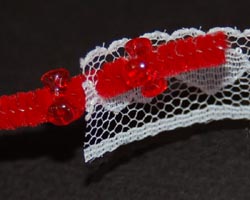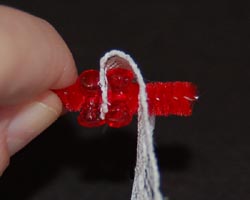 2. Continue threading until you have most of the pipe cleaner covered. Below are close ups of how the pipe cleaner should look from the side, and from the top.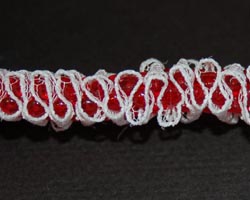 3. When most of the pipe cleaner is threaded, wrap the remaining pipe cleaner tightly around the last tri-bead to secure it.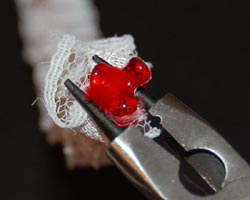 4. Bend the pipe cleaner in the shape of a heart, and secure the ends by wrapping the last tri-beads together with a thin piece of wire.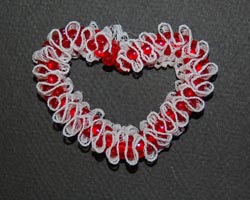 5. Add a small bow to the pin. This can be secured with a fine wire or some glue. Add on the pin back and the beaded heart pin is ready to wear!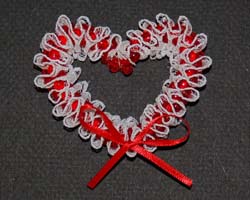 Like This Page?
Click Here to Order my 650 page ebook,
A Year of Creative Crafts
.
Work From Home
- I've turned my passion for crafting into an extra income with Crafts-For-All-Seasons.com - find out how you could do the same.