Baby Jesus Ornament
by Wendy Simonitis
(Parma, Ohio)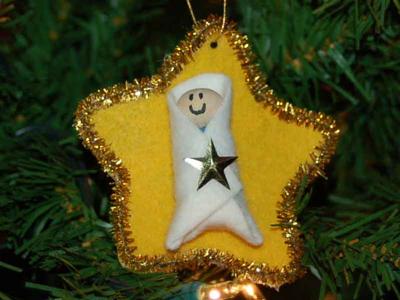 Baby Jesus Ornament
This is a simple craft using felt, a pipe cleaner, and a tiny baby Jesus using a wooden bead.

What you need:

- stiff yellow felt
- glitter glue
- scissors
- wooden bead baby
- 3 inch square of white felt
- black marker
- hot glue gun
- gold sequin star
- star stencil or cookie cutter
- hole punch and cord for hanging

1. Cut out a star from the felt using a stencil or a cookie cutter as a pattern. Outline the star with the glitter glue.

2. Wrap the wooden bead baby with the square of white felt. Secure with hot glue, and attach a gold star on top.

3. Glue the baby to the center of the star. Add a face to the baby with a marker.

4. Punch a hole at the top of the star and add a cord for hanging.

Click Here to Order my 650 page ebook,
A Year of Creative Crafts
.
Work From Home
- I've turned my passion for crafting into an extra income with Crafts-For-All-Seasons.com - find out how you could do the same.