Receive a Thank You Gift For Your Donation

---
Donations help me out so much.  I run this website alone and make all the crafts myself.  The money I make from these donations go directly to the purchase of crafting supplies, so I can keep on creating and posting new crafts!

178 of fun and creative crafts that are featured on this website have now been put together into a convenient PDF e-book format for your convenience - and I want to give it away to say "thank you!"

For every $5.00 or more donation made to this site using the PayPal link below, I'm giving away my craft e-book as a thank you gift!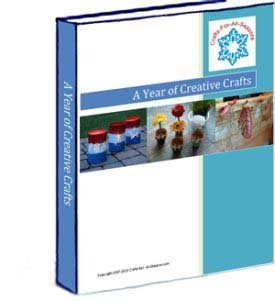 Read on to learn more about what this Ebook offers!
 "Just Point and Click"


This useful resource will save you valuable time while searching for fun craft projects. 


The book features a pictorial table of contents, like the example page shown below.  This allows you to see a photo of each craft in the table of contents. 


You just click on the link below each craft photo to jump immediately to right spot in the ebook to see the complete tutorial.  
The table of contents is 22 pages long full of finished craft photos!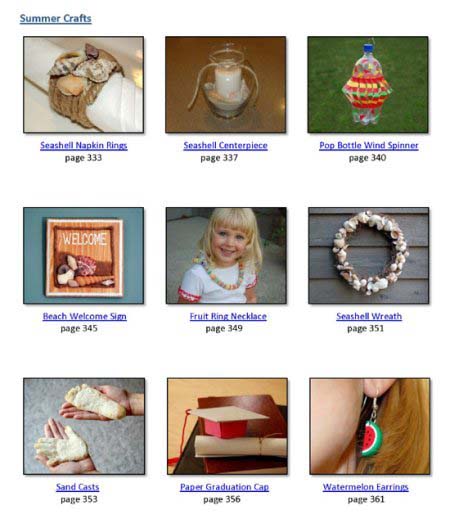 What does this mean for you?

It's the ultimate craft resource at your fingertips
Easy to understand craft instructions with step by step photographs.
Browsing crafts you want to make is quicker and easier with pictures in the table of contents

.
Print only the crafts you are interested in, with no ads.
Once downloaded, navigating the ebook is FAST

!
You can work offline with the convenience of an e-book.
Perfect for referring to at home or in the classroom.
A Year of Creative Crafts e-book features:
178 craft projects for every season of the year… that's a lot of CRAFTS!
650 pages

. 

Yes, you heard right.  It is BIG e-book, in a convenient PDF format. 
Each craft has:
    a final picture of the craft
    materials needed for the project
    step by step instructions
    step by step pictures
Fun crafts for kids, and more challenging crafts for adults.
Crafts are divided into sections for seasons and holidays, just like the website.
"Let Your Kids Use the E-book, You'll be Amazed!"
Let your kids navigate the e-book when they are bored…  and they'll be busy for hours!  It is easy enough to browse with all the photos right in the table of contents.


This craft e-book is perfect for anyone watching kids, to help spark their creativity and fight boredom including:

Teachers
Daycare workers
Camp counselors
Sunday school teachers
Art teachers


 Having the ultimate craft directory at your fingertips makes it easy to navigate to a new craft project whenever creativity sparks, or boredom sets in. 



But…


"Adults love these crafts too!"


 Senior care providers can benefit from having this e-book, where you can provide a new craft project for every holiday.



"Get More Craft Ideas for Craft Fairs"


 It is also very helpful for talented crafters who need more hand-crafted item ideas to sell at their craft booths or on Etsy.



Take a look at the listing of the 178 crafts that appear in this e-book, so you'll be sure of what crafts you will see.  These are all the craft tutorials written by me.  The crafts submitted by visitors to this website are not included in this e-book.
Customer Testimonials
Here is what happy visitors have been saying about  "A Year of Creative Crafts":
"My year of crafting is all planned out thanks to Karen and her amazing e-book filled with so many great ideas!! I love the fact that I can easily choose from the pictorial table of contents. I already have so many bookmarked to try and it will be great to be able to refer to this every time I'm in a crafty mood! There is just a variety of crafts for all ages and holidays - something for everyone and every occasion. The book is truly a year full of crafts and filled with crafts for all seasons!"

- Amanda from www.easy-crafts-for-kids.com
This 650 page e-book is yours for any donation of $5.00 or more!


The Fine Details:


This e-book is in a convenient PDF format, which uses Adobe Reader to read the file.  Don't worry, you probably already have Adobe Reader downloaded on your computer.  But in case you don't have it, you can download the free Adobe Reader at this link.  Please be aware that you will not be mailed a physical book, this is an electronic book. I cannot give refunds on your donations for this misunderstanding.



Once you hit the "donate" button, you'll be taken to the PayPal checkout site where you can donate any amount of money you choose.  If the donation is over $5.00, you will be directed to a page with the download link and instructions.  Click on the link, and the 16.3 MB  ebook download will begin and complete within 1 to 2 minutes, depending on the speed of your computer.  


This e-book is written in English.


Have a question, or having troubles with the download? Please do not hesitate to contact me with any questions you may have.
By receiving this e-book, you are confirming that you understand this is an electronic book in PDF format, and you must read the book from your computer.  A printed copy will NOT be mailed to you.  By completing this donation transaction, you are confirming that you understand this and a refund will not be given due to a misunderstanding of the book's e-book format.