Handprint Crafts to Make With Your Kids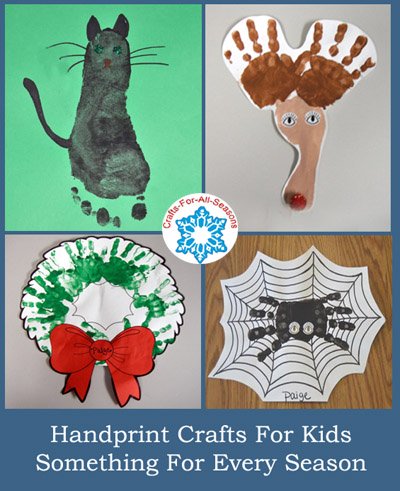 One my favorite crafts to do with children is making handprint crafts.Capturing this short moment of time in their lives means so much.The kids always seem to love these crafts as well, because they get to be messy and put paint on! Mom and Dad cherish these works of art since they show the size of their hands and feet at that moment in time.
Daycare and schools love these projects for their children, and rightfully so.It is the perfect gift to give away, a little signature of their own!I remember making my first handprint piece in Kindergarten.It was the handprint plaque I have featured on this site, and my parents still display it every Christmas. Growing up I had so much fun placing my hand in the mold, just to see how big I have gotten. Now I have let my own kids put their hands in that mold, to see how much bigger or smaller they were than me at that age.
I have found it is easiest to paint the childrens' hands with a sponge paintbrush, instead of having them dip their entire hand in the paint.I have tried it both ways and have found the mess to be less when you apply the paint to them, instead of letting them have a go at it.Then, have your paper ready and guide their hand or foot to the paper and help push it to create the print.Then, have a wet towel ready to wipe off those little hands and feet before they try to touch something else!
My kids have come home with some really fun creations from their daycare and school through the years. I am amazed at some of the cute ideas they come up with.I'm so happy to share their creations with you here!
Most of these photos don't link up to step by step instructions, because in most cases you can get the idea of how to make these crafts from the photo itself. If directions are included, you will see a blue border around the image showing you it is a clickable link. Just click on the photo to take you to the instructions.
Do you have a craft to add to the collection? Below the photos is a link to submit comments or photos, or you can email them to me too! Thank you in advance for sharing!
Handprint Crafts

Comments from Others

"We love painting the grandkids and adults feet white and then have them step on a piece of black posterboard.......we do family sets of footprints. Then we turn the poster upside down and put eyes on the heels and they turn into a family of ghosts. We then sign names at the bottom of each print to keep as a keepsake for years to come." -Cindy K.
Would you consider a small donation? 
You will receive my craft ebook as a thank you!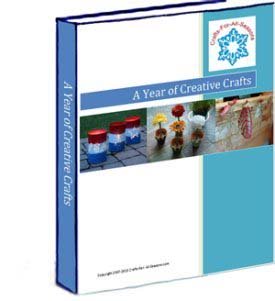 Every little bit helps! If you are enjoying this site, would you consider making a small donation? I use the extra money to help with the cost of craft supplies! With any $5.00 donation or more, you will receive my 650 page ebook full of 178 craft tutorials from this site.  Thank you for your consideration!
Click here to learn more about the book, and to make a donation. 




Home

›

Crafts for Toddlers

› Handprint Crafts



Home

›

Crafts for Preschoolers

› Handprint Crafts



Home

›

School Age Kid Crafts

› Handprint Crafts