Winter Craft Projects to Keep You Busy All Season!

Winter craft projects look great around your home, like snowflake and snowmen themed crafts. When you've taken down all your Christmas things sometimes the house can look a
little dull. It seems too early to decorate for Valentine's Day, right?


Candles are a favorite in the cooler months, so be sure to check out some of the cute things you can do to dress up votive candle holders. A few of my favorite crafts are the gel wax candle holders and the snowman candle holders.
There is a candle company that sells the gel wax candle holders for an expensive price.  When I saw the design, I knew it would be simple to duplicate.  Even if you have not make candles before, do not be intimidated.  Gel wax is extremely easy to use, and you don't even have to tint it for this project.  All my step by step directions will help you along the way.
The snowmen candle holders work great with the battery operated votives.  They really come out cute and only a few materials are needed.  These sell really well at craft fairs too!

If you live where it gets cold, children (and let's face it, adults too) may begin to feel cooped up in the winter. There are a lot of fun activities and ideas here to keep them busy and enjoy a warm cozy day… inside!
There are also some great winter craft projects you can use for school holiday parties.


Do YOU have a Winter Craft you would like to share? Let's add it to the collection. Click here!

Winter Craft Projects

YOUR Craft Submissions

The crafts that appear below were submitted by visitors. 
Thank you for sharing your creativity with others!

If you would like to see more Winter crafts hand picked by me, please visit by page on Pinterest.
Would you consider a small donation? 
You will receive my craft ebook as a thank you!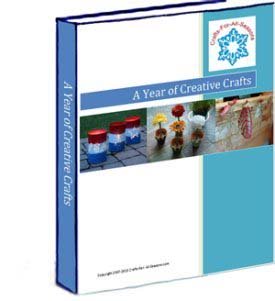 Every little bit helps! If you are enjoying this site, would you consider making a small donation? I use the extra money to help with the cost of craft supplies! With any $5.00 donation or more, you will receive my 650 page ebook full of 178 craft tutorials from this site.  Thank you for your consideration!
Click here to learn more about the book, and to make a donation.