Christmas Crafts and Ideas for the Holiday Season!

Here are some of my favorite Christmas crafts and ideas on homemade gifts to make this holiday season.  All of these projects have complete step by step instructions.

Christmas, for many, is the most anticipated holiday of the year. Nearly everyone who celebrates this holiday also decorates in some small way, so you will find plenty of holiday decorations and ornaments to make and give.

There are many easy Christmas crafts and ideas for kids to make for the home or to give as gifts. The holiday season is also a popular time for craft bazaars, so this is a great place to get some ideas on crafts to make and sell for Christmas! Christians will enjoy the religious crafts that symbolize the true meaning of this holiday.
I do have some particular favorites I would like to mention. The paper cone trees are really easy and inexpensive to make.  You can get them to be pretty big so they really make an impressive decoration.  This is perfect for a bedroom or dorm room that may not have room for a real tree!  You can use a roll of Christmas wrapping paper to make one of these for less than $5. 
Another favorite of mine is the unique Christmas card holder.  It is a really nice way to display cards and I use mine every year!

My hope is that you and your family can start a yearly tradition of making Christmas crafts together during this wonderful time of year! Wishing you a very Merry Christmas!

Do YOU have any Christmas crafts you would like to share? It can become its own page on this website. Click here!

Christmas Crafts and Ideas

YOUR Craft Submissions

The crafts that appear below are all submissions from visitors like you!

If you would like to see more Christmas crafts have picked by me, please visit by page on Pinterest.
Would you consider a small donation? 
You will receive my craft ebook as a thank you!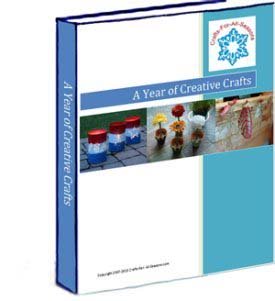 Every little bit helps! If you are enjoying this site, would you consider making a small donation? I use the extra money to help with the cost of craft supplies! With any $5.00 donation or more, you will receive my 650 page ebook full of 178 craft tutorials from this site.  Thank you for your consideration!
Click here to learn more about the book, and to make a donation.