Candy sleigh gift
by Margo
(Gibsons B C Canada)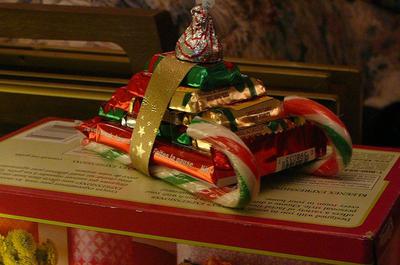 If you are looking for a cute and unique gift this holiday, try making these candy sleighs. The also double as great decorations for Christmas, and then, you get to eat them!

Here is what you need:

- KitKat bar
- mini Hershey bars
- candy canes
- Christmas ribbon
- ribbon bow
- hot glue

Directions to assemble a candy sleigh:

The two candy canes will be on the very bottom of the sleigh, so arrange them on their side with their hooks pointing up, as the photo shows. Next, glue a KitKat bar on top, using hot glue.

To add the presents, glue 10 small Hershey bars, or other types of mini candy bars to the top of the KitKat, using just a drop of glue (don't use too much, as you don't want to melt the chocolate!).

Try gluing them in a pyramid shape, by placing four bars the bottom, then three bars next, etc.

Finish it all off by gluing a ribbon around the "packages" and add a pretty bow on the top.

Now you have a perfect, yummy homemade gift!
Would you consider a small donation? 
You will receive my craft ebook as a thank you!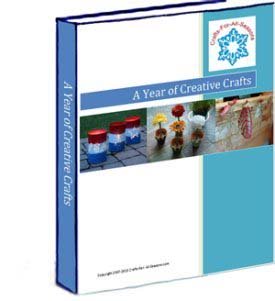 Every little bit helps! If you are enjoying this site, would you consider making a small donation? I use the extra money to help with the cost of craft supplies! With any $5.00 donation or more, you will receive my 650 page ebook full of 178 craft tutorials from this site.  Thank you for your consideration!
Click here to learn more about the book, and to make a donation.