Recycled Crafts
Make Something New out of Something Old

Recycled crafts are things you make using something you would normally throw away.  This not only helps out the environment, but it saves you money on craft supplies.  I'm constantly challenging myself, trying to find something new to make with something that is normally thrown away.  Here is a collection of some of my favorites!

One of my personal favorites is my old pasta jar that I cleaned out and decoupaged real leaves on it.  It was such a simple craft, but it looks amazing when it is lit up with a candle inside. 
I also use tin cans (cleaned out soup can or vegetable cans) in many crafts.  One I use all the time for my Memorial Day party is the buffet silverware holder, which resembles an American flag.  I get a lot of nice compliments on it.
My kids eat a lot of those travel sized applesauce cups, so I made up a few crafts you can make with those.  Be sure to see the Easter chick craft and the mini Easter baskets.

You will start finding yourself saving things before throwing it away, and asking yourself, "now what can I make with this?".  I keep a little collection of things in my craft closet for when inspiration hits!  The most common items I use are paper towel and toilet paper tubes, jars of any type, plastic soda bottles, tin cans and lids, and wine corks. However, I always save interesting shaped containers or jars.  Pretty wrapping paper and tissue paper also have endless uses for projects.
So you have some more ideas? What items do you save and craft with?  I would love to hear your ideas!

Do YOU have any Recycled Crafts you would like to share? Let's add it to the collection. Click here!

Recycled Crafts

YOUR Craft Submissions

The crafts that appear below were submitted by visitors. 
Thank you for sharing your creativity with others!

Would you consider a small donation? 
You will receive my craft ebook as a thank you!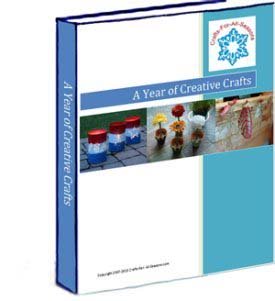 Every little bit helps! If you are enjoying this site, would you consider making a small donation? I use the extra money to help with the cost of craft supplies! With any $5.00 donation or more, you will receive my 650 page ebook full of 178 craft tutorials from this site.  Thank you for your consideration!
Click here to learn more about the book, and to make a donation.