Wine Bottle Craft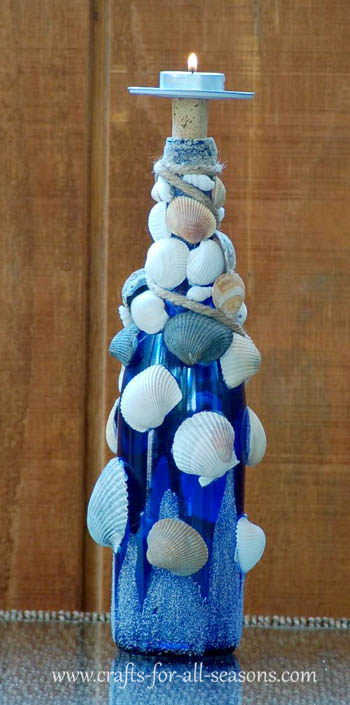 This wine bottle craft can have many variations. Here, I show how to decorate a pretty blue wine bottle with seashells, and how to turn the cork into a tea light candle holder.
This is a pretty way to decorate an end table or to use for a summer centerpiece.

This is a recycled craft. Keep an eye out for pretty wine bottles and save them when they are empty. I just couldn't throw this pretty blue one away.

The metal platform that the tea light candle is attached to is a lid from a vegetable or soup can.

There are many different ways you can decorate wine bottles, and I welcome you to share your photos and ideas.

Clear glass wine bottles look very pretty when painted with enamel glass paint, for instance.

To learn how I made this seashell wine bottle, read the step by step tutorial that appears below.

Materials Needed:
empty wine bottle and a cork that fits in the opening
decoupage medium, such as Mod Podge
paint brush
sand
jute cording or thin rope
seashells
hot glue gun
lid from a soup can or vegetable can
votive candle (the type that are in tin holders)
screw and drill (or you could use glue)
Instructions for this Wine Bottle Craft
1. Begin the wine bottle craft by thoroughly cleaning out the wine bottle and allow it to air dry. Make sure you have a cork that fits in it for the top.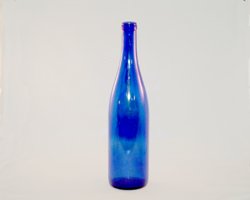 2. Place some sand in a shallow dish. Paint the top two inches of the wine bottle with decoupage medium, then roll it in the sand so it adheres to the decoupage. Allow this to dry well before going on to step 3.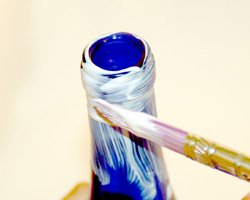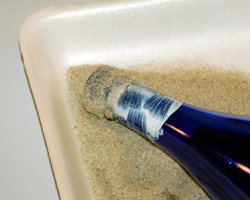 3. Wrap some jute around the top of the wine bottle, and attach it as you go with a hot glue gun. Continue to spiral the jute down the bottle as far as you like, attaching it along with way with hot glue.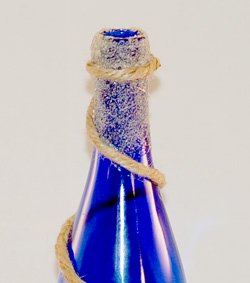 4. Next, start hot gluing seashells all around the top of the bottle. Start with your smallest shells, and make the shells larger as you move down the bottle. As I moved down the bottle I chose to have the shells become more spaced out so you could see the pretty blue bottle.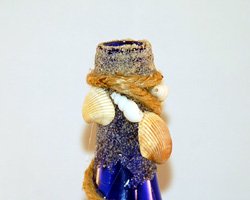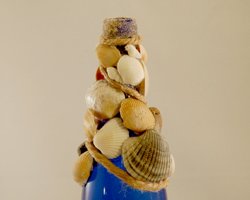 5. Before I glued seashells near the bottom of the bottle, I painted on more decoupage medium in a pretty design and added more sand to it. Then I glued some seashells on top of this.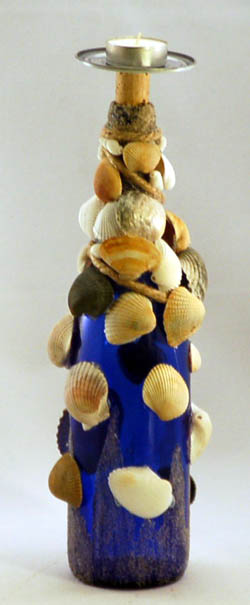 6. To make the candle holder, save and clean a lid from a vegetable or soup can. Next, remove the metal cup with comes with standard tea light candles. Center this metal cup on the metal soup can lid. Drill a small hole through the center of the tea light candle holder, through the soup can lid. Then, screw a metal screw through this hole, starting with the metal tea light holder and going on through the soup can lid. Once the screw is poking through, twist a cork on to the end of the screw and continue to twist the screw until it is flush with the metal tea light holder and it completely through the cork. Alternatively, you could also just glue these parts together. I chose to screw them so it would be very strong.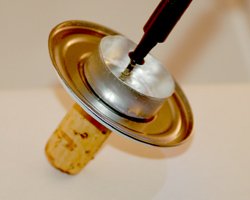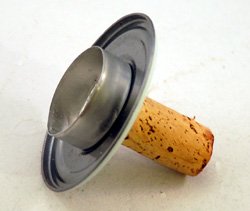 7. Place the cork into the wine bottle. You may have to use a hammer to gently tap the cork into the wine bottle. I found that using PartyLite tea lights work well because they burn very clean and evaporate, leaving the space open for a new candle. Enjoy!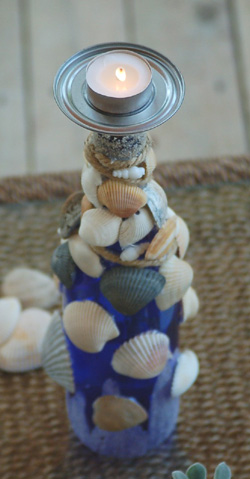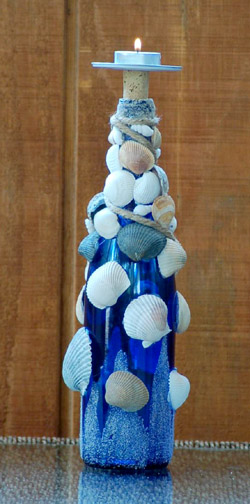 Would you consider a small donation? 
You will receive my craft ebook as a thank you!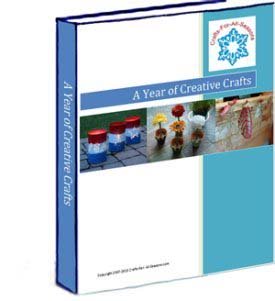 Every little bit helps! If you are enjoying this site, would you consider making a small donation? I use the extra money to help with the cost of craft supplies! With any $5.00 donation or more, you will receive my 650 page ebook full of 178 craft tutorials from this site.  Thank you for your consideration!
Click here to learn more about the book, and to make a donation. 




Home

›

Summer Crafts

› Wine Bottle Craft



Home

›

All Occasion Crafts

› Wine Bottle Craft



Home

›

Recycled Crafts

› Wine Bottle Craft



Home

›

Crafts for Adults

› Wine Bottle Craft