Fun and Festive New Year's Crafts

New Year's crafts can be found here, and this is a great place if you are hosting a New Year's Eve party.  There are a fewparty favors you can make and ideas for decorating for this festive event!


I love New Year's Eve. It is a time to reflect on the year that just passed, and to look forward to fresh beginnings. It is a time to celebrate and be with the ones you love. It is a time to be thankful for everything you have and to set goals for the year ahead .It is also time for parties!
I host a party each year and I always try to have some supplies out for the children so they can make party hats and some noise makers. They really enjoy doing this each year. One of our favorites that we do every year is to make a party hat with the upcoming year on it.  I include a pattern so all you have to do it print it out and decorate it!
When it gets close to midnight, the kids and adults alike will enjoy cracking open their party crackers.  It is up to you on what you want to hide inside! It could be candy, or maybe a special message.  I love putting in suggested New Year's resolutions, such as "Next year I will get in touch with a old friend."
I include a fun noisemaker craft that is easy to make and will add to the noise and excitement come midnight.  All you need is two hard plastic beverage cups.  Then, find beads, buttons, and other small, hard items to create a clattering shaker.

On New Year's day, I love relaxing with my family and enjoying a nice dinner together. I have used some of the crafts below on my dinner table for table decorations.  I have two projects to decorate old wine glasses, and for both projects I use them to put a tealight candle inside.  Instant ambiance for any party table!

Here's hoping the new year ahead is a happy and healthy one for you and your family. If you have a New Year's craft or tradition you would like to share with us, please submit it below. Happy New Year!

Do YOU have any New Year's crafts you would like to share? It can become its own page on this website. Click here!

New Year's Crafts

If you would like to see more New Year's projects have picked by me, please visit by page on Pinterest.
Would you consider a small donation? 
You will receive my craft ebook as a thank you!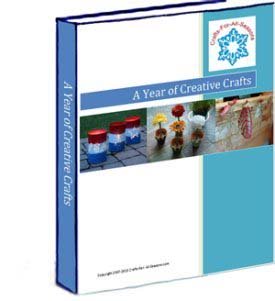 Every little bit helps! If you are enjoying this site, would you consider making a small donation? I use the extra money to help with the cost of craft supplies! With any $5.00 donation or more, you will receive my 650 page ebook full of 178 craft tutorials from this site.  Thank you for your consideration!
Click here to learn more about the book, and to make a donation.