Valentine's Day Crafts to Show Your Love

Here is a collection of some of my favorite Valentine's Day crafts.  There is something for everyone, so why not try a heart wreath for your front door, or browse some of the Valentines day crafts for kids.

Valentine's Day is a special time to show the ones we love how much we care for them. Sometimes it is hard coming up with a unique gift idea. People love gifts that show you put a lot of thought into it. What would be better than a homemade gift, or homemade Valentine? Get creative with some of these great Valentine's Day crafts!
There are also many crafts to make for your home, to decorate for this romantic holiday, and lots of fun kids crafts too!
I'd like to mention some of my absolute favorites.  One is the heart wall hanging, which looks so pretty and intricate.  It is made from toilet paper tubes!  This looks pretty hanging on the interior side of a door.
If you are looking for a heartfelt gift to give to your significant other, consider making the hexagon explosion box.  You can personalize it in any way you choose and it makes a really unique personalized gift!
A quick gift to put together are the chocolate kiss roses.  These make wonderful teacher gifts or to give to someone special.  And they are much cheaper than a dozen roses from a florist! 
I also have some crafts here that are created by using your thumbprints or handprints, so these are perfect kids crafts to make.  The handprint Valentine makes a great momento, and the handprint creates a heart shape.  You can also position two thumbprints to create a heart, and this design is used on the thumbprint bookmark and on the painted thumbprint heart shirts. 
Enjoy creating some homemade crafts this Valentine's Day!

Do YOU have any Valentine's Day crafts you would like to share?
Let's add it to the collection.  Click here!

Valentine's Day Crafts


Lacy Heart Pin
YOUR Craft Submissions

The crafts that appear below were submitted by visitors. 
Thank you for sharing your creativity with others!

If you would like to see more Valentine's Day crafts hand picked by me, please visit by page on Pinterest.
Would you consider a small donation? 
You will receive my craft ebook as a thank you!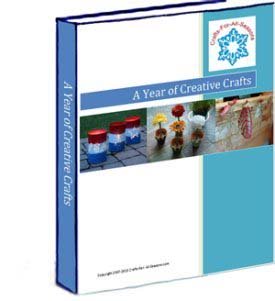 Every little bit helps! If you are enjoying this site, would you consider making a small donation? I use the extra money to help with the cost of craft supplies! With any $5.00 donation or more, you will receive my 650 page ebook full of 178 craft tutorials from this site.  Thank you for your consideration!
Click here to learn more about the book, and to make a donation.