Father's Day Crafts to Show You Care

Father's Day crafts can be found here, and what better gift is there than something handmade? Especially from the kids... they can make gifts that are so memorable for their special dad. I'll be the first to admit, that I find it harder to make masculine type gifts. But here are a few I have come up with. I'd love to see your ideas too!

There are ideas for homemade cards, cool gifts for his office, and craft projects he will actually USE! Homemade crafts from the heart are always the best gifts; you don't have to spend a lot of money.
Wives and girlfriends, I hope you find something fun on these pages too to make for your favorite man! You might find a lot of things on this page that anyone would like, be sure to browse here and on the Mothers Day craft page for cool gift ideas to make and give.
I'd like to point out a few of my favorite crafts on this page.  The wine cork board is a beautiful piece and can made in any size.  You can even make small trivets to place under hot pots and pans.  My tutorial shows you how easy it is to glue the corks and what pattern that looks the most pleasing.
The duct tape wallet is a classic craft.  For many kids, this is their first wallet, one they make themselves!  With all the different patterns of duct tape you can make a fun work of art that is really useful too.  It is a clever little gift for Dad too!
I came up with the golf pen craft when I was trying to think of a more masculine version of the flower pot pen.  I love the idea on having something hold your pen on your desk, while being a fun display too! GIve this pen a try, it is pretty easy to make!

Do YOU have any Father's Day crafts you would like to share? It can become its own page on this website. Click here!

Father's Day Crafts

YOUR Craft Submissions

The crafts that appear below are all submissions from visitors like you!
If you would like to see more Father's Day crafts have picked by me, please visit by page on Pinterest.
Would you consider a small donation? 
You will receive my craft ebook as a thank you!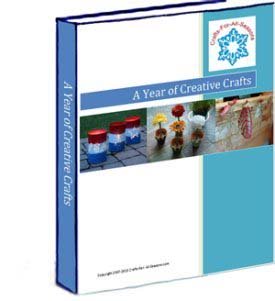 Every little bit helps! If you are enjoying this site, would you consider making a small donation? I use the extra money to help with the cost of craft supplies! With any $5.00 donation or more, you will receive my 650 page ebook full of 178 craft tutorials from this site.  Thank you for your consideration!
Click here to learn more about the book, and to make a donation.