Decorated Can Koozie

Father's Day Crafts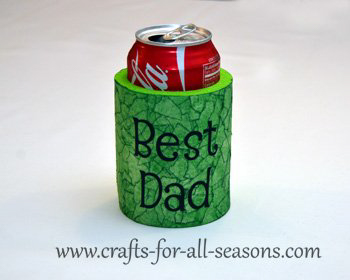 This decorated can koozie is a fun and useful Father's Day craft. What dad wouldn't enjoy holding this cool looking can hugger to keep his beverage cold?
I need to thank one of my Crafts For All Seasons Facebook fans, who reminded me of masking tape crafts. I remember working with masking tape as a kid, ripping off tiny bits of masking tape and covering it with shoe polish!
This is fun for any age. Even extremely young children can participate if an adult rips up the tape pieces for them. You can cover anything with this method... a jar, a box, etc.
I thought I'd give the technique a try once again and decided to work with a can koozie. Perfect for a dad, right? The same method was used, but I used paint instead of shoe polish.
I really like the way it came out and how the koozie has texture and a pattern to it.
Materials Needed:   
Plain Can Koozie or Can Hugger
Masking tape
Acrylic paint and paintbrush
Tissues and a bit of water
Letter stickers
Instructions for the Decorated Can Koozie:
1. Begin the decorated can koozie by ripping up small bits of masking tape. Begin to adhere these to the surface of the can koozie, overlapping pieces as you go. The rough ripped edges look best, so try to cover the straight edges by overlapping it with a torn edge. Along the top and bottom of the koozie, align the tape pieces so the straight edge is neat with the rim. The smaller the pieces of tape are, the better the effect. Kids love this part, although those with short attention spans may get distracted if it is taking too long. Having the pieces of tape torn for them makes it more fun for their little fingers.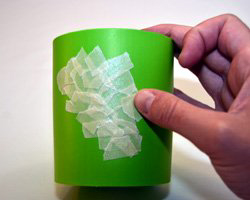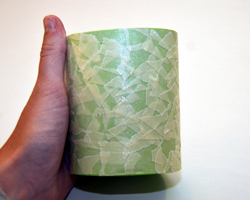 2. When the can is completely covered, paint over the masking tape with acrylic paint. Work in sections so the paint doesn't dry too quickly.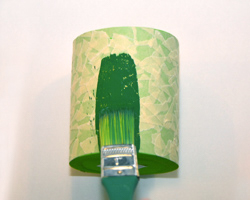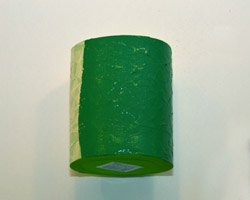 3. Dip a tissue in a bit of water. Now go over the paint, rubbing some of it off. You will see the texture of the masking tape bits begin to show through. You want to do this step before the paint has completely dried. You can experiment with the texture you like and how much paint you want to remove. You can also try rubbing off the paint or simply "blotting" it off to get different effects. Allow the koozie to dry (which doesn't take long at this point).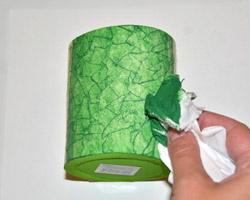 4. Now you can add any other decorations or embellishments you choose. I used some vinyl letter stickers to spell out "Best Dad". These are available near the scrapbook aisles at your local craft store. You can also try "foamie" letters and shapes.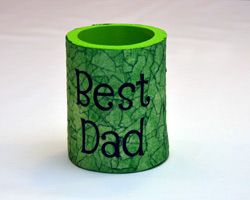 Would you consider a small donation? 
You will receive my craft ebook as a thank you!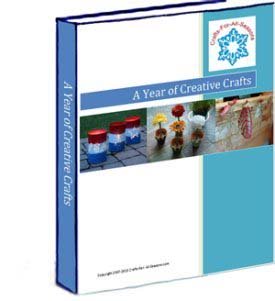 Every little bit helps! If you are enjoying this site, would you consider making a small donation? I use the extra money to help with the cost of craft supplies! With any $5.00 donation or more, you will receive my 650 page ebook full of 178 craft tutorials from this site.  Thank you for your consideration!
Click here to learn more about the book, and to make a donation.