Fun Summer Crafts

Here's a collection of some of my favorite summer crafts, that I make with my kids and that I have made for my home and for gifts.  I hope you find something that you like too.


I'd like to mention some of my favorites.  I have great memories of making a lot of the wind spinners out of plastic 2-liter pop bottles.  My grandmother loved them so I would patiently wait for my family to consume all the soda so I could wash out the bottle and get busy making another spinner.  I made them in all different color combinations.  They really do work good and they get spinning fast in the wind!
As an adult now I have enjoyed putting together a beach ornament whenever we vacation at a different beach.  At Christmas, it instantly reminds my family of that vacation, and it is pretty neat to see how the sand can really look different from beach to beach.  I fill these with little tiny shells or coral that we find while walking the beach.
My favorite decoration for my home, by far, is the window screen dragonfly.  This dragonfly stays attached to my screened in sun room year round, and its been 7 years since I first made and it still looks great.  Window screening is easy to find, just look in any home improvement store.  It is usually sold in a roll and you can make a lot of different crafts with it.  Everything else you need for the craft is simple and you may even have it on hand.

And I have to mention that giant bubble maker craft.  This very simple, easy craft only takes a few minutes to make, but it provides tons of entertainment to the kids and adults.  Part of the secret is in the bubble solution recipe, but the wand with the long string is what creates those huge bubbles.  Give it a try for your next party, you won't be disappointed!  Thanks for stopping by and browsing!

Do YOU have a Summer Craft you would like to share? It can become its own page on this website. Click here!

Summer Crafts

If you would like to see more Summer crafts hand picked by me, please visit my page on Pinterest.
Would you consider a small donation? 
You will receive my craft ebook as a thank you!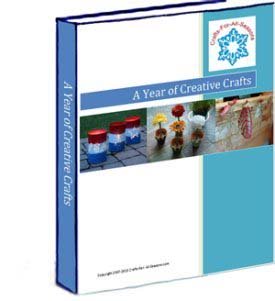 Every little bit helps! If you are enjoying this site, would you consider making a small donation? I use the extra money to help with the cost of craft supplies! With any $5.00 donation or more, you will receive my 650 page ebook full of 178 craft tutorials from this site.  Thank you for your consideration!
Click here to learn more about the book, and to make a donation.