Easy and Fun Easter Crafts

The Easter crafts on this page celebrate the season of Spring, from egg carton flower bouquets to decorated polymer clay eggs.
Easter is a time of renewal. Spring is in the air. The snow is melting, there are buds on the trees, and the bulbs in your yard may be beginning to poke through. I hope everyone will find a few crafts here they love! There are many Easter projects for kids to help them celebrate this beautiful time of year. Preschoolers will love the handprint sheep project, grade school children will enjoy the soup can bunnies, and teenagers and adults can give the embroidery floss Easter eggs a try. For a true work of art, try out the beaded egg craft. It takes some time, but the end result to truly beautiful!
Another popular craft is the Q-tip Lamb Craft.  Take a bit of time to cut all the cotton swabs ahead of time, then have fun gluing them on to create the sheep's coat.  These are adorable as little place name holders for the Easter dinner table.
The polymer clay egg project is a very thorough tutorial because it shares some techniques for working with polymer clay.  One fun way to work with polymer clay is by creating canes, which are basically long cylinders of clay with a design inside (that YOU make)!  Cutting off slices of your clay log reveals the pretty designs which can be applied all over the egg.  This is the way polymer clay artists create beautiful, one of a kind beads too.  This is a great tutorial to read to learn how to make these canes, and I give you three simple cane patterns to start off with.

Easter is very important for Christians. Jesus has risen and has given us a holiday to remind us that he died for us and gave us eternal life. There are some Easter crafts that are religious, perfect for Sunday school, and adults alike!

Do YOU have any Easter crafts you would like to share?
Let's add it to the collection. Click here!

Easter Crafts

Pop Bottle Easter Basket
YOUR Craft Submissions

The crafts that appear below were submitted by visitors. 
Thank you for sharing your creativity with others!

If you would like to see more Spring crafts hand picked by me, please visit by page on Pinterest.

Would you consider a small donation? 
You will receive my craft ebook as a thank you!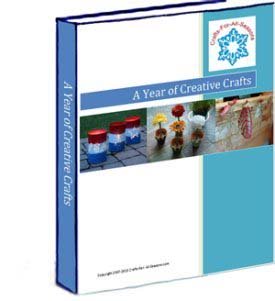 Every little bit helps! If you are enjoying this site, would you consider making a small donation? I use the extra money to help with the cost of craft supplies! With any $5.00 donation or more, you will receive my 650 page ebook full of 178 craft tutorials from this site.  Thank you for your consideration!
Click here to learn more about the book, and to make a donation.