Vinyl Pendants
by Jeanine
(South Dakota)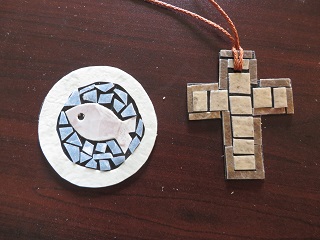 vinyl pendants
If you happen to have extra vinyl floor tiles from a home project, then here is a recycled craft for you! Try make these vinyl pendants.

Materials for Vinyl Pendants:

1 self stick vinyl floor tile


scraps of floor tile that are non-stick


pattern


carbon tracing paper


pencil


scissors


awl


cord


Directions for Vinyl Pendants:

1. If your NON-STICK FLOOR TILE has a paper advertising label, you have to remove all that first.

2. Make your design in whatever size you want. Since most vinyl floor coverings come in natural earth tones, choose a design that will work with the colors you have. Leave the paper on the back of the SELF STICK FLOOR tile and cut out your basic shape in the size you want.

3. If you want a border put the self stick tile cut out face down on the back of the floor tile, trace it and cut it out. Cut out the center of that shape to allow placement of pcs. inside. Depending on the size of your design, you may need to use a box cutter for this step.

4. Then remove the paper from the back of the self stick shape and place your border onto it. BE CAREFUL to place it correctly - you can only do it once. While you are working, take care not to get any particles onto the self stick areas. Cut out the shapes you choose and simply place them.

5. Use the awl to punch a hole for the cord. It has to be large enough to accept the middle of the cord when doubled. Bring the doubled cord through to the front of the pendant, insert both ends through the loop and draw it up. Then tie the ends of the cord.
Would you consider a small donation? 
You will receive my craft ebook as a thank you!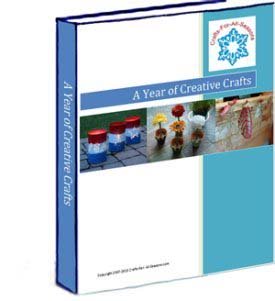 Every little bit helps! If you are enjoying this site, would you consider making a small donation? I use the extra money to help with the cost of craft supplies! With any $5.00 donation or more, you will receive my 650 page ebook full of 178 craft tutorials from this site.  Thank you for your consideration!
Click here to learn more about the book, and to make a donation.