Want to Share these Crafts with Others?
If you want to feature any of these crafts on your own website or blog, I give you permission to do so under the following conditions. 
Unfortunately, due to recent changes in Google's algorithms, I no longer allow any of my photos on this website to be used on other sites, without permission from me.
You may refer visitors to my site using a "follow" link for the craft tutorial. Please do not copy my tutorials and use on another site. Duplicate content is strictly forbidden by Google, and this will ultimately hurt my site as well as yours.
I do welcome and encourage you to share my craft tutorials, but by referring visitors to come to this site to get the instructions. Another wonderful way to feature ideas from this site is to re-create the craft yourself, and explain how you did it on your blog. Then mention that the original idea was from Crafts For All Seasons (with a follow link to the project page). If you have any questions at all do not hesitate to contact me. Thank you very much for your cooperation!
If you add a "Pin It" button on your blog post, it must re-direct back to this website, which is the original source. Thank you!
Thank you so much for adhering to these policies!
Social Media - Where to Find CFAS

Another great way to show your support is to become a fan of the Crafts For All Seasons page on Facebook. This is a great place to get status updates from the site. 
---
Or, join me over at my Google+ page, by clicking the G+ button.


---
You can also follow me at Twitter to get updates, or to re-tweet!

---
I also give permission for you to pin my craft images to Pinterest. Please only pin the photos with the www.crafts-for-all-seasons.com watermark. Do not print the tutorial under the photo on Pinterest.
It is very important that the redirect link from Pinterest must point back to this site, the original source.  Thank you for abiding by these policies.

CFAS Badges, Buttons, and Banners
If you like this site, please share it with others! It would be greatly appreciated. There are a kazillion craft sites out there, and if you feel mine is something special, I would really appreciate you sharing my site.   You can do this by mentioning and linking to www.crafts-for-all-seasons.com in forums and blogs, and by adding this site to your social bookmark list. Below I have also included some code, my banner and logos you may use on your website for sharing.
If you would like to link this site to yours, please copy and pastethe html code below into your page.
---
If you like a text version, which looks like this:

Crafts For All Seasons - Craft projects for every season of the year! Free step by step instructions and photos to help along the way. Many easy craft projects for children, and more challenging projects for adults.
Then use this code:


---
If you prefer a banner, which looks like this:



Then use this code:



---
Or perhaps you prefer just a button of the logo (shown below), then try this code: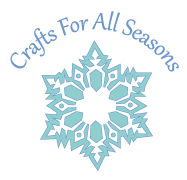 ---
If you have shared crafts on the site, I welcome you to post one of the buttons below:




Many thanks back to all of you!



---
Home Page

> Share this Site