Patriotic Fourth of July Crafts

This collection of Fourth of July crafts will give you some ideas and inspiration for decorating your home, and showing a bit of patriotic flair!
Independence Day is a time of celebration for our country… packed with of family parties and barbecues, fireworks, and a chance to show off our patriotism. You will find many fun crafts to do with the kids, and cool jewelry and accessories to wear, like the American flag beaded safety pin or the patriotic hair band.  Both only cost pennies to make! 

It is fun to do crafts with children during this time of year. Since its summer break, it is nice to keep up with some arts and crafts! Not to mention it is a good opportunity to talk about patriotism and teach them a bit about our history while crafting.
One of my very favorite crafts is the polymer clay American Flag bracelet.  I show you, step by step, how to make an intricate cane resembling an American flag.  This cane can be sliced so many times to make so many little flags.  I had enough to make each of my family members a bracelet and a pair of earrings!  We wear them every year.
Another favorite craft of mine is the simplicity of the patriotic sand art.  You can easily create a unique decoration for your home by using three colors of sand and different shaped containers.  So many possibilities!
The tin can luminaries is a nice project that can be used year round outside, so they can be tailored to any holiday.  But there's something about these red, white and blue tin cans that I just love! 

Many projects can be displayed or worn for our many patriotic holidays, including Memorial Day and Labor Day.
Let's get started!

Do YOU have any Independence Day crafts you would like to share? It can become its own page on this website. Click here!

Fourth of July Crafts

If you would like to see more Patriotic projects have picked by me, please visit by page on Pinterest.

Would you consider a small donation? 
You will receive my craft ebook as a thank you!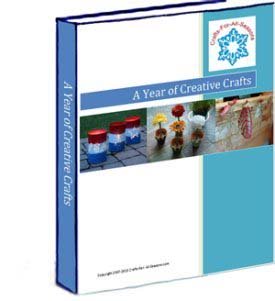 Every little bit helps! If you are enjoying this site, would you consider making a small donation? I use the extra money to help with the cost of craft supplies! With any $5.00 donation or more, you will receive my 650 page ebook full of 178 craft tutorials from this site.  Thank you for your consideration!
Click here to learn more about the book, and to make a donation.