Fourth of July Wreath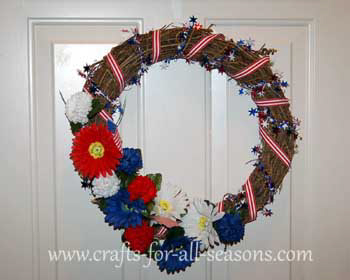 This Fourth of July wreath is simple to decorate and customize.
It makes it so much more special when you create something on your own, then to just buy a pre-made wreath, and it will save you money too!
This is a perfect wreath to display on your front door to show your patriotism for Memorial Day, the Fourth of July, and for Labor Day.
Materials Needed:   
A grapevine wreath
Red, white, and blue star garland
Patriotic ribbon (I used some with a red and white stripes)
Silk flowers in red, white, and blue (I purchased two bunches of patriotic flowers, complete with a little flag)
Wire for hanging
Scissors
Wire cutters
Instructions for the Fourth of July Wreath
1. Begin by wrapping the star garland around the wreath, as you wrap around the entire circle of the wreath, as shown. Secure by tying the garland together from where you started.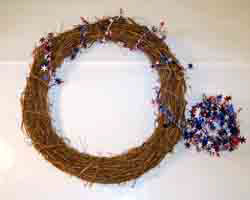 2. Continue by wrapping the patriotic ribbon around the wreath several times, placing it in between where the garland wraps. Secure the ribbon by tying it together from where you started. Make the tie in the back, or to the left where it will be covered with silk flowers.
3. Next get your silk flowers ready. Below you will see the two bunches of silk flowers I purchased. In the summertime you will probably find something similar in your local craft store. Or, just purchase silk flowers in red, white, and blue. Using the wire cutters, cut off each silk flower from the bunch.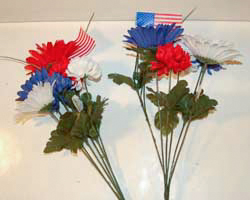 4. Continue making the Fourth of July wreath by taking each flower, one at a time, and placing on the left side of the wreath. Secure each flower by bending the stem following the curve of the wreath, and pushing the stem through the grapevine wreath. The branches alone are usually enough to hold the flowers in place, or you can hot glue them if necessary. Arrange the flowers in a pretty pattern along the left side and bottom of the wreath.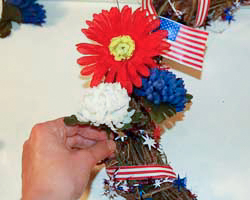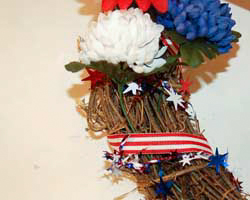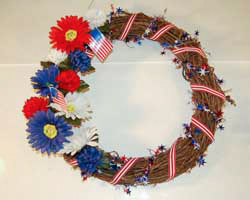 5. Finish the Fourth of July wreath by adding a wire to the back of the grapevine wreath for hanging.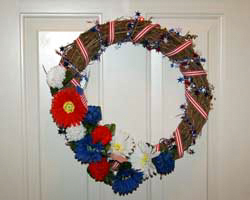 Would you consider a small donation? 
You will receive my craft ebook as a thank you!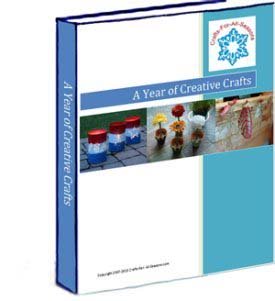 Every little bit helps! If you are enjoying this site, would you consider making a small donation? I use the extra money to help with the cost of craft supplies! With any $5.00 donation or more, you will receive my 650 page ebook full of 178 craft tutorials from this site.  Thank you for your consideration!
Click here to learn more about the book, and to make a donation.