Candle Crafts to Brighten Your Home

Candle crafts bring light and warmth into any home.  Browse my collection of candle crafts to find the perfect candle to make for any season.

Many of these crafts show how to create unique candle holders.  One of my favorites is turning a regular wine bottle into a candle holder.  I show how to do this using the top of a food can lid and using the holder from a tealight.  You can decorate the wine bottle in any way you choose, but in this project I glued seashells on it to make it a summer decoration.
I also love working with gel wax.  It is an easy type to wax to start with.  It is pretty easy to work with and to clean up!  I love the translucent look of it. 
Two of my favorite candle crafts using this type of wax is the champagne gel candles and the gel wax candle holders.  Both of these candles are created using a wine glass.  The champagne flutes look just like champagne, especially from the natural bubbles that form within the wax when you stir it. 
The gel wax candle holders are completely reusable because a glass votive holder is first placed inside the wine glass, the gel wax is poured around it.  A new tealight or votive can be replaced at any time into the votive holder.
I hope you find a candle craft you would like to try.  Remember, candles make great gifts too!

Do YOU have any Candle Crafts you would like to share? Let's add it to the collection. Click here!

Candle Crafts

YOUR Craft Submissions

The crafts that appear below were submitted by visitors. 
Thank you for sharing your creativity with others!

Would you consider a small donation? 
You will receive my craft ebook as a thank you!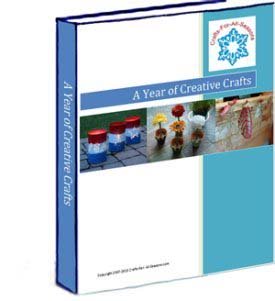 Every little bit helps! If you are enjoying this site, would you consider making a small donation? I use the extra money to help with the cost of craft supplies! With any $5.00 donation or more, you will receive my 650 page ebook full of 178 craft tutorials from this site.  Thank you for your consideration!
Click here to learn more about the book, and to make a donation.