Floating Flower Candles Without Mould
by Rajeshwari
(India)

Materials Used:

Paraffin Wax
Candle Wicks
Wax Crayons
Directions:

1. Start by cutting the candle wick up to to one inch length.
2. Melt the Paraffin Wax over gas.
3. Take it off the gas and add the wax Crayon.
4. Mix well till the crayon is dissolved.
5. With the help of a spoon, pour the wax on the counter and spread it.
6. Cut it into half with help of knife.
7. Work fast, because if the wax sets you wont be able to shape it.
8. This half will be your rose petal.
9. Peel off the wax and wrap it around the wick. Handle carefully, as the wax would still be hot.
10. Repeat the process and keep wrapping the petal around the wick.
11. Shape it into a flower. Don't worry if you have candle scraps. Put it back into the container and heat it again.
12. Shape it and let it cool.
Make more of your color choice.
13. Your floating candles are ready to be lighted.
To see my original post and more step by step photos, please visit:
http://rajiscrafthobby.blogspot.in/2017/01/floating-flower-candles-without-mould.html
Would you consider a small donation? 
You will receive my craft ebook as a thank you!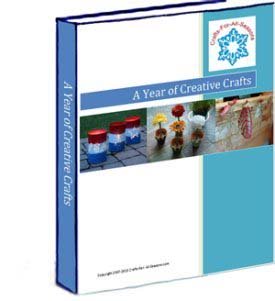 Every little bit helps! If you are enjoying this site, would you consider making a small donation? I use the extra money to help with the cost of craft supplies! With any $5.00 donation or more, you will receive my 650 page ebook full of 178 craft tutorials from this site.  Thank you for your consideration!
Click here to learn more about the book, and to make a donation.