Beautiful Fall Crafts

Fall crafts are all about colors of the season. Leaves, nature, harvest time, the new chill in the air... it is all about bringing the outside in.

Fall is definitely my favorite season of the year. I just love when the air turns crisp, and I'm in love with autumn hues. Sweaters, camping, fires, pumpkins, apple cider, and crisp leaves crunching under my feet, all things that just make me happy!

Here you will find autumn crafts to decorate your home, and to celebrate this beautiful time of year.  Most of the crafts concentrate on leaves, trees, or pumpkins!  If you are specifically looking for Halloween crafts, I have a whole category for that too (look under the Seasons tab on the top Navigation menu).

To point out some of my favorites... making the autumn leaf wreath is simple craft for kids.  I've also heard that this craft has been done in some nursing homes.  It is a great way to get outside, go for walk, and collect some colorful leaves that have fallen.  Then, just glue them on a cut paper plate.  It will last for a week or two, and looks great hanging on a door.
Another one of my very favorites is the decoupaged leaves on the jar.  The Mod Podge really captures the leaves' colors and three years later, but glass jar still looks great!  It looks so pretty with a candle inside.
The paper strip pumpkins are a great way to quickly decorate an area.  If you make several, you can put them in different groupings or clusters.  You can make them each unique by using different shades of paper, or try some printed scrapbook paper.
The handprint tree is a great way to decorate a classroom mural.  Use a copy of each child's hand.  Every child in the classroom is now part of the Fall tree!
I always love to see the crafts you all come up with too!  If you have a unique craft idea that you haven't posted elsewhere, I invite you to share your craft using the link below.  If you have made your own version of one of the crafts on my site, I would love to see it.  You can contact me at anytime and send me the photo, and I will post it to the site.  Many thanks!

Do YOU have any Fall crafts you would like to share? It can become its own page on this website. Click here!

Fall Crafts

YOUR Craft Submissions

The crafts that appear below are all submissions from visitors like you!

If you would like to see more Fall crafts hand picked my me, please visit my page on Pinterest.
Would you consider a small donation? 
You will receive my craft ebook as a thank you!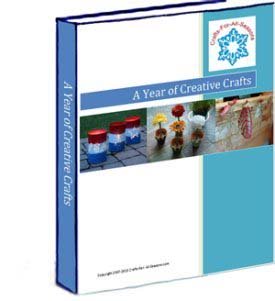 Every little bit helps! If you are enjoying this site, would you consider making a small donation? I use the extra money to help with the cost of craft supplies! With any $5.00 donation or more, you will receive my 650 page ebook full of 178 craft tutorials from this site.  Thank you for your consideration!
Click here to learn more about the book, and to make a donation.