Leaf Stenciled Flower Pot

Fall Arts and Crafts

This leaf stenciled flower pot is a very easy craft project and the end result looks very professional!
It is a beautiful way to spruce up a regular terra cotta flower pot. These make great gifts, and can sell well at Fall craft bazaars, especially if you can pot them with some pretty mums! All that is needed is two shades of spray paint, real leaves, and rubber cement.
Materials Needed:

Terra cotta flower pot
Real leaves from a tree (freshly picked)
Rubber Cement
Two shades of spray paint in Autumn hues (I chose a metallic gold, followed by red)
Painters tape
Instructions for the Leaf Stenciled Flower Pot

1. Begin by spray painting the entire pot with the first color of your choice. This will be the background color, and the color of the leaves. For this project, I chose metallic gold. Allow the pot to dry completely.
2. Next, brush on rubber cement to the front side of some freshly picked leaves. Use the leaves right away, if they sit very long they tend to wilt. Place the leaves over the flower pot in whatever pattern you choose. Spread them flat with your fingers, making sure the edges are glued down well.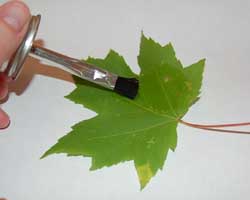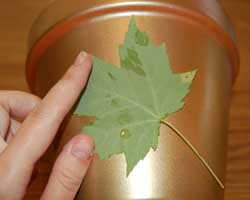 3. Add some painters tape to the rim of the flower pot, so that this stays the background color of gold.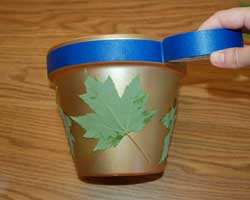 4. Take the pot outside and give it a nice coat of the second color of spray paint, here I chose red. Allow the pot to dry well.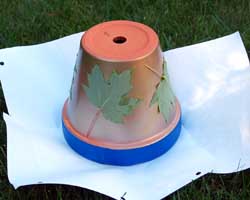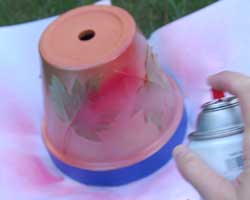 5. When the pot is dry, gently peel off the leaves. Using rubber cement will allow the leaves to peel off again.
6. Wipe the pot off with a damp cloth, to remove any excess rubber cement. Remove the painters tape. The flower pot is now ready for some Fall mums!
Would you consider a small donation? 
You will receive my craft ebook as a thank you!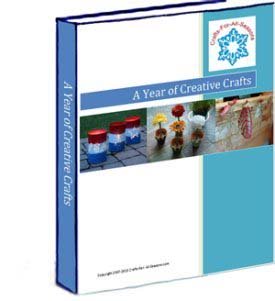 Every little bit helps! If you are enjoying this site, would you consider making a small donation? I use the extra money to help with the cost of craft supplies! With any $5.00 donation or more, you will receive my 650 page ebook full of 178 craft tutorials from this site.  Thank you for your consideration!
Click here to learn more about the book, and to make a donation.