Autumn Leaf Craft

This autumn leaf craft makes a beautiful decoration for your home this Fall.

This craft was taught to me by my friend Heather, who is a school teacher and uses this craft for her fifth grade class.

It is a great craft for children around age 10 and up, and for adults. Leaf patterns are cut out of window screening. Window screening can be bought by at a hardware store, usually sold on a roll by the foot. For this reason, this craft is wonderful to do in a classroom since many leaves can be made from one foot of screening! The cheap, flimsy screening works the best for this craft. Then, the leaves are outlined using puffy paint and allowed to dry.

These can be hung by a mantle, made into window hangings, made into a mobile, added to a fall wreath, or placed around the centerpiece on the table. Be creative!

Materials Needed:   
Window screening (the cheap, flimsy kind is best). This is sold at hardware stores, usually on a roll, by the foot.
Metallic spray paint in Fall hues (gold, silver, bronze and red look great)
Glittery puffy paint in Fall hues (gold, silver, bronze, orange, red are examples)
Length of ribbon for tying around the stem
Wax paper or parchment paper
Scissors
Straight pins
Instructions:
1. Begin the autumn leaf craft by printing out the leaf patterns by clicking here. A new window will open, (Adobe Reader is required)... if you don't have Adobe Reader, you can click here for the free download. Or, create your own leaf patterns by tracing around real leaves. Cut out the autumn leaf templates, and pin them to the window screening with straight pins.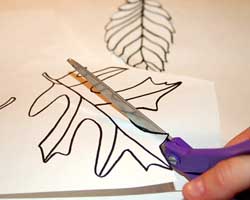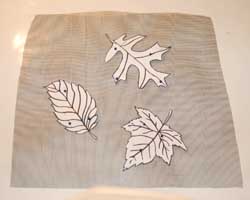 2. Now cut out the leaf patterns from the window screening, and remove the pins and the paper patterns.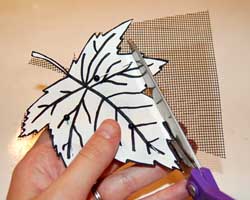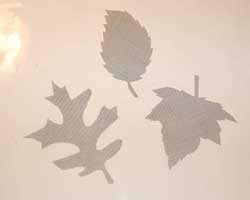 3. Place the leaf patterns on some old paper or newspaper, and give them a nice coat of metallic spray paint. Allow them to dry completely.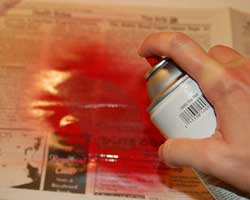 4. Remove the dry leaves from the newspaper, and place them on wax paper or parchment paper. Using the puffy paint, trace each leaf around the edge. Then, add on the veins of the leaf, as shown. Allow these to dry completely.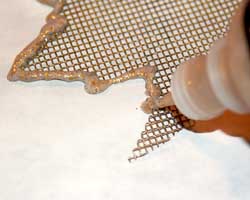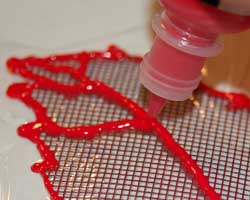 5. When the autumn leaf craft is dry, gently peel them away from the wax paper or parchment paper. Tie a bow around the stem with the craft ribbon.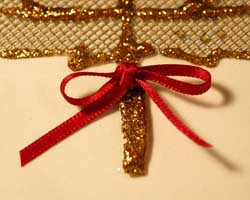 6. Your shimmering autumn leaf craft is done. Hang them wherever you want to add some autumn flair!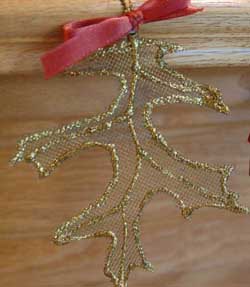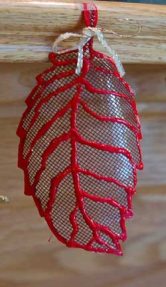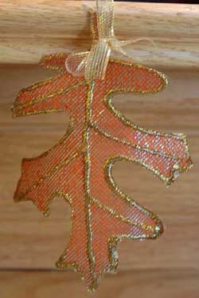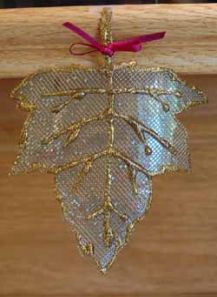 Would you consider a small donation? 
You will receive my craft ebook as a thank you!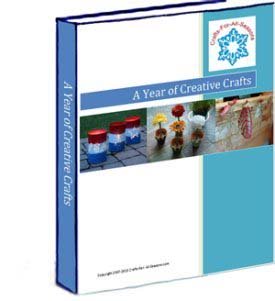 Every little bit helps! If you are enjoying this site, would you consider making a small donation? I use the extra money to help with the cost of craft supplies! With any $5.00 donation or more, you will receive my 650 page ebook full of 178 craft tutorials from this site.  Thank you for your consideration!
Click here to learn more about the book, and to make a donation. 
Home

›

Fall Crafts

› Autumn Leaf Craft