Fall Candle Vase and Wine Bottle
by Sandra Hricik
(Palm Harbor, Florida, USA)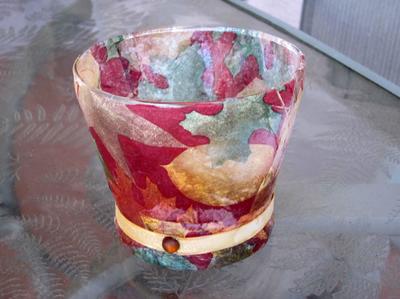 Fall Decorative Glass Candle Vase
Materials Needed:

Empty wine bottle -- any color
Fall napkin with design
Mod Podge
Sponge Brush
Metal Craft Wire
Decorative Gems

First, detach the white layer from the back of the napkin. Then spread a coat of Matte Mod Podge on the vase and tear the napkin into various sized pieces and lay gently on the glass -- make sure to carefully rub out any bubbles (the wet napkin will be delicate). Some wrinkles may occur but this is nice as it can give it a 'crinkled' look. After you have done the vase and bottle, let dry for 24 hours.

I then wrap a metal wire with glass gems to resemble grapes around the top of the wine bottle for a very nice effect.

I also used gold ribbon to surround the bottom of the vases along with a gold bead. I love Bling!

Finally, spray both vase and bottle with a clear gloss finishing spray that gives a protective hard finish.

The end result is a very nice fall centerpiece and makes great gifts for friends, family, co-workers, etc.

BTW, one can also use different colored or patterned tissue paper.
Would you consider a small donation? 
You will receive my craft ebook as a thank you!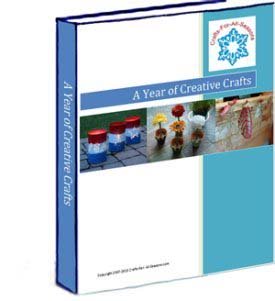 Every little bit helps! If you are enjoying this site, would you consider making a small donation? I use the extra money to help with the cost of craft supplies! With any $5.00 donation or more, you will receive my 650 page ebook full of 178 craft tutorials from this site.  Thank you for your consideration!
Click here to learn more about the book, and to make a donation.