Patriotic Hair Band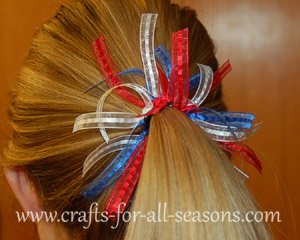 This patriotic hair band is extremely easy to make and it really jazzes up your look for
These can be made for any holiday, substituting in the colors of choice.
Think about making some in your child's school colors to show school spirit, or your favorite home sports team (and they are perfect for cheerleaders or girls on a dance team).
Many craft stores sell ribbon by the yard, making this a very inexpensive hair accessory to make!
Things Needed:
An elastic hair band
1 yard of red ribbon
1 yard of blue ribbon
1 yard of white ribbon
Ruler
Scissors
Glue or fabric stiffener (optional, in case you are using ribbon that frays easily)
Patriotic Hair Band Instructions


1. Begin by cutting the ribbon into 6 inch lengths. You should end up with 6 pieces each of red, white, and blue ribbon.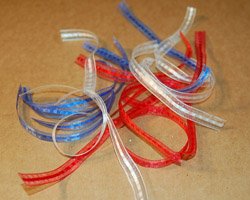 2. If the ribbon frays easily, an optional step is to dip each end of the ribbon into fabric stiffener, or a bit of glue, and allow to dry.

3. Begin by tying one length of ribbon around the elastic band, in a simple square knot, as shown below.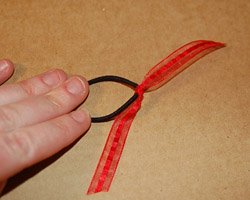 4. Continue to tie the ribbons around the elastic band, alternating red, white, and blue.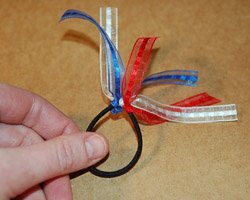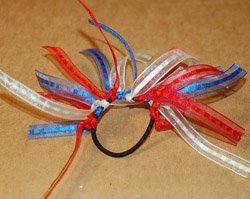 5. Continue all the way around until you have tied all 18 ribbons. Now it is ready to wear it in your hair!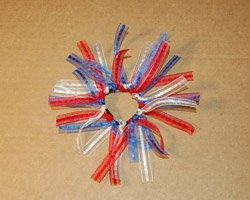 Would you consider a small donation? 
You will receive my craft ebook as a thank you!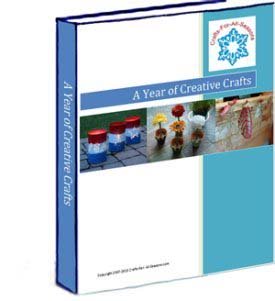 Every little bit helps! If you are enjoying this site, would you consider making a small donation? I use the extra money to help with the cost of craft supplies! With any $5.00 donation or more, you will receive my 650 page ebook full of 178 craft tutorials from this site.  Thank you for your consideration!
Click here to learn more about the book, and to make a donation. 




Home

›

All Occasion Crafts

› Patriotic Hair Band



Home

›

Fourth of July Crafts

› Patriotic Hair Band



Home

›

Crafts for Teens

› Patriotic Hair Band



Home

›

Crafts for School Age Kids

› Patriotic Hair Band