Easter Bunny Pin

This Easter bunny pin is made from little straw hats and craft foam, all of which are very inexpensive and found readily at craft stores.
These pins are hot sellers at craft bazaars for Easter. Many can be made quickly at one time, since it just involves some cutting and gluing.  You can get quite an assembly line going!  Or just make one for yourself or to give as a gift! 

It will look great pinned to your outer coat or dress this Easter.  Enjoy the tutorial!

Materials Needed:   
2.25 inch straw hat
3 inch straw hat
white craft foam (I used 2 mm thickness)
pink craft foam (I used 2 mm thickness)
2 googly eyes
2 small white pom-poms
1 small pink pom-pom
Small length of pastel colored ribbon for bow
scissors
hot glue
pencil
Instructions for the Easter bunny pin:


1. Begin by cutting the smaller straw hat (one inch hat) into half lengthwise. If you are making more than one Easter bunny pin, the other half can be saved for another pin.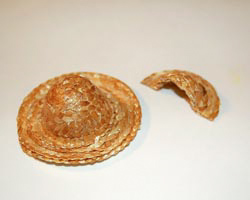 2. To make the bunny ears, click here or on the ear image below to open up a pattern you can print out (a new window will open, Adobe reader is required). Cut out the pattern and then trace around the ears on the white foam, and trace the inner ear pattern on the pink foam, and cut out the parts.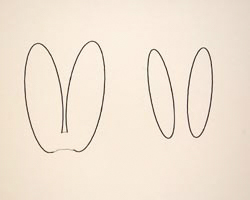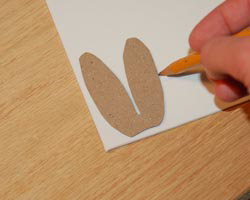 3. Next, glue the pink foam inner ear parts to the white foam ears. Then, glue the bunny ears onto the larger straw hat, above the curve of the hat.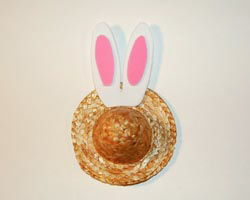 4. Put hot glue all along the cut edge of the smaller straw hat, the one you cut into half. Then, glue this perpendicular to the larger straw hat, overlapping the bottom of the bunny ears. This is the Easter bunny's hat.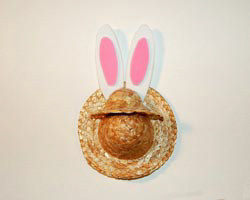 5. Now you can add on the face. Glue on two googly eyes, a pink pom-pom for the nose, and right beneath glue two white pom-pom's side by side for the bunny's cheeks.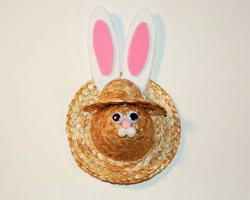 6. Tie a small bow using the pastel ribbon, and glue this at the bottom of the bunny's face, at the bottom of the larger straw hat.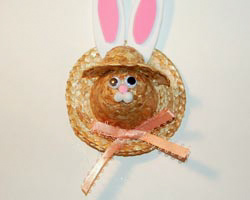 7. Now you can glue on the pin backing. Glue to the back of the large straw hat near the top, for good support.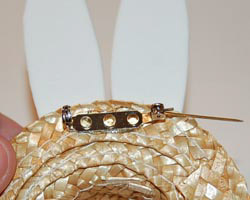 Your pin is ready to wear! Happy Easter!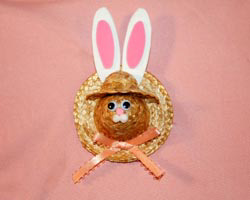 Would you consider a small donation? 
You will receive my craft ebook as a thank you!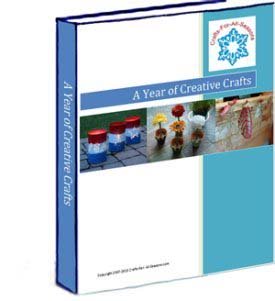 Every little bit helps! If you are enjoying this site, would you consider making a small donation? I use the extra money to help with the cost of craft supplies! With any $5.00 donation or more, you will receive my 650 page ebook full of 178 craft tutorials from this site.  Thank you for your consideration!
Click here to learn more about the book, and to make a donation.