Decorated Easter Bottle with LED Lights
by Susan Apperson
(Palm Harbor, Florida, USA)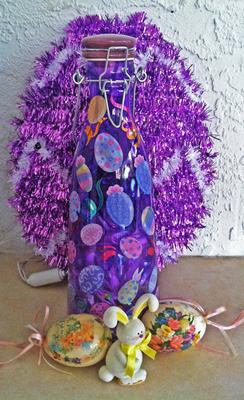 Decorative Easter Bottle
Materials:

Clear or colored bottle
Diamond Drill Bit
craft store stickers
Easter 'grass'
LED lights
Aileen's Tacky Glue


Step 1
Drill hole in bottom of bottle (If you decide not to
drill holes in order to insert lights, just start
decorating the outside of the bottle)

Step 2
Insert Easter colored grass (I found a straw is helpful
in pushing the grass down to bottom of bottle and to
help evenly distribute grass).

Step 3
Feed in LED lights thru hold at bottom of bottle.

Step 4
Add Easter stickers (can be purchased at craft stores:
Michael's, Jo-Anns, etc.) May need to use some glue
to ensure stickers are tight against bottle. Glue
should dry clear, and if needed, use an Exacto knife
to clean off any glue excess that shows.

Step 5
Plug in to see lights displayed and enjoy!!


Would you consider a small donation? 
You will receive my craft ebook as a thank you!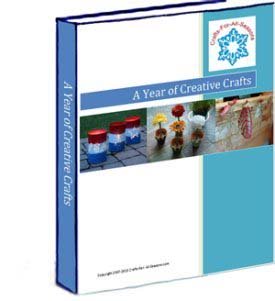 Every little bit helps! If you are enjoying this site, would you consider making a small donation? I use the extra money to help with the cost of craft supplies! With any $5.00 donation or more, you will receive my 650 page ebook full of 178 craft tutorials from this site.  Thank you for your consideration!
Click here to learn more about the book, and to make a donation.