Plastic Canvas Box for Father's Day

by Michelle from Cook's Crafts
(Glendale, NY)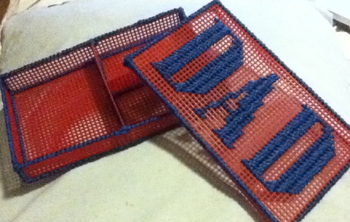 This plastic canvas box is another great craft submitted by Michelle from Cook's Crafts.  This would be suitable for a tween or teen to make for their dad.  This personalized plastic canvas craft is perfect for the top of Dad's dresser or by his night stand, to hold coins, receipts, head buds, etc.  Michelle has included a down loadable PDF file with the pattern you need. The instructions are also reprinted on the PDF file so all you have to do is click and print it out. 

Materials Needed:   
the PDF pattern (link below)
standard sheet of 7 count colored plastic canvas
small skein of plastic canvas yarn with needle
scissors
Plastic Canvas Box Instructions

1. Click on this Plastic Canvas Box PDF file and print the pattern (the instructions are also printed on it too!)

2.  Cut out one of each (count the boxes and cut next to the row of boxes):

51 x 31 (cover)
49 x 29 (bottom)
6 x 24 (separator)
3.  Cut out two of each:

4.  Cut out three of:

 5.  Begin to sew your pattern using the canvas yarn.  The stitches used in the project are Whip, Continental and Horizontal Slanted Gobelin.  Visit
www.AnniesAttic.com
and click on their Stitch guide for help.


6.  Begin with the bottom:  Using the Whip stitch attach the 6x49 pieces and 2 of the 6x29 around the outside edge.  Attach the last 6x29 in the center and the 6x24 to split one of the compartments (see picture of the finished project for help).

7.  For the cover:  Stitch "Dad" onto the cover using the graph provided on the pattern. Attach the 3x31 and the 3x51 pieces along the outside using a whip stitch.

8.  Complete all exposed edges with a whip stitch to give it a nice finished look.   

For more fun ideas, please visit http://www.cookscrafts.com/


Would you consider a small donation? 
You will receive my craft ebook as a thank you!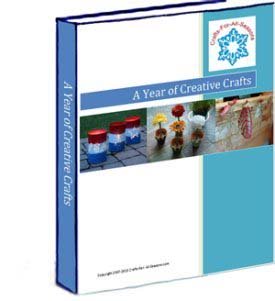 Every little bit helps! If you are enjoying this site, would you consider making a small donation? I use the extra money to help with the cost of craft supplies! With any $5.00 donation or more, you will receive my 650 page ebook full of 178 craft tutorials from this site.  Thank you for your consideration!
Click here to learn more about the book, and to make a donation. 




Home

›

Father's Day Crafts

› Plastic Canvas Box