Football Coin Holder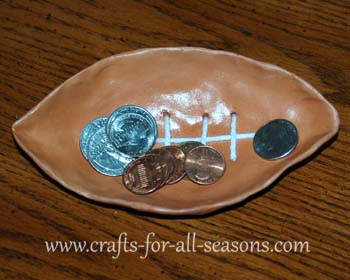 This football coin holder is sure to be loved by your dad, especially since you made it!
It looks great sitting on top of his dresser or bed stand.
Most men always have some spare change in their pockets at the end of the day and are looking for a place to dump it. If your dad is like this, why not make him this cute dish shaped like a football?
It is made out of air-dry clay that you can pick up at any craft store.
The step by step instructions below show you exactly how to make one!

If you are looking for another project to make with the rest of the clay you bought, be sure to check out the decorated flower pot craft.

Materials Needed:  
White yarn or shoelace
Clear acrylic sealing coat spray or other glaze/varnish
Sand paper or sanding block
Knife
Toothpick
Air hardening clay in Terra cotta color (sold usually by the polymer clay in craft stores)
Instructions for the Football Coin Holder
1. Open up the package of air hardening clay. Follow the manufacturer's instructions on how to work with it and store it. Usually it is very soft right out of the package, ready to mold. Store unused clay tightly wrapped in plastic wrap and in an air-tight container. Begin by pulling out a good handful of the clay from the package. Begin to knead it in your hands to get it soft and pliable.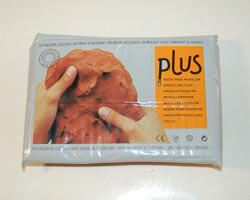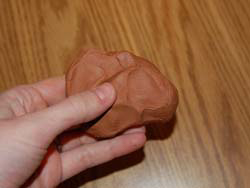 2. Begin to work the clay into a shape of a football dish. Don't worry if you can't get it perfect. Trimming with the knife and sanding the piece later will give it a much better appearance. But do try your best to get all the bumps smoothed out and to have equal sides on the football. 
3. Use a knife to trim off the edges, to make them straight across and smooth.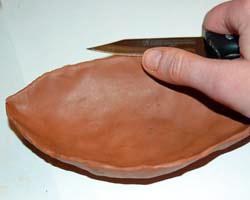 4. Next, use a toothpick to make holes in the bottom of the dish. This is to thread yarn or a shoe lace through to make the football laces. Make sure to make the holes big enough by swirling the toothpick around in the hole a bit. Take a look at the photo below to see the placement of the holes.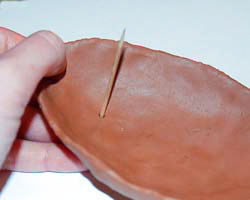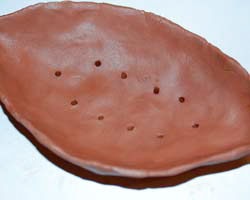 5. Allow the football coin holder to dry completely, for about 2 days. It will turn a lighter color when it is all dry.

6. Sand your piece with a sanding block or sand paper to smooth out any fingerprints or bumps. Sand the edges well too.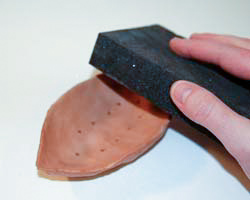 7. Rinse off your piece under water and allow it to dry.

8. Give the football dish a coat of clear acrylic glaze and allow it to dry.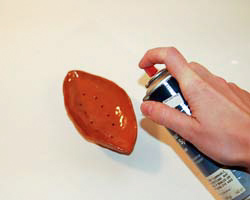 9. Take white yarn or a white shoelace and thread it through the two holes near the points of the football dish. Tie the ends in a knot underneath the dish.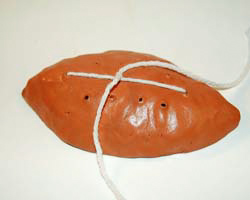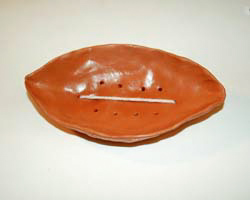 10. Repeat with four other pieces of yarn, but thread them in each hole across from one other. Tie each one in the back.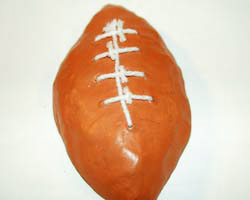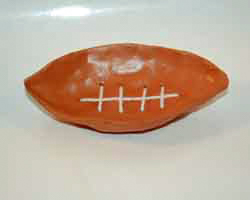 11. The football coin holder is all ready to give to Dad!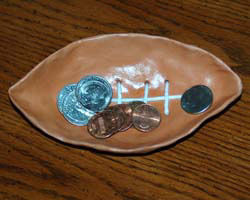 Would you consider a small donation? 
You will receive my craft ebook as a thank you!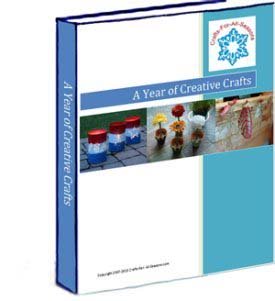 Every little bit helps! If you are enjoying this site, would you consider making a small donation? I use the extra money to help with the cost of craft supplies! With any $5.00 donation or more, you will receive my 650 page ebook full of 178 craft tutorials from this site.  Thank you for your consideration!
Click here to learn more about the book, and to make a donation.