Thumbprint Heart Bookmark

This bookmark is an easy craft perfect for school age children.  A piece of sturdy card stock is decorated using little hearts made from two thumbprints.
At times it can be hard finding a Valentine's Day craft for kids that is a bit different. So many of them involve cutting out hearts and making Valentines.

This craft is unique, and parents will truly adore this.  Who wouldn't love receiving a homemade gift which has hearts made from a child's loving hands? This is an easy and inexpensive heartfelt gift for Valentine's Day.
Materials Needed:
Red and white card stock or construction paper
Red stamp pad (or red paint)
Hole Punch
Length of ribbon (red, white, pink)
Scissors
Designer edge scissors
Glue
Thumbprint Heart Bookmark Instructions
1. Cut out two rectangles from the red and white card stock, each 1.5 inches wide and 6 inches long.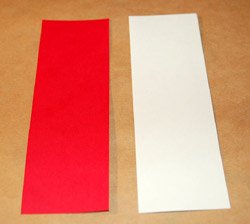 2. Using your thumb, press it into the red stamp pad or paint. Then, depress your thumb down on the white card stock rectangle, at a slight angle to form one half of the heart. Then, overlap the first thumbprint with a second thumbprint to form the heart. See the photos below for proper placement. Using paint can be a bit trickier. Practice on scrap paper first.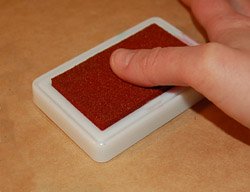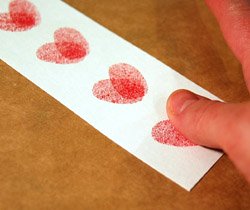 3. Make four hearts down the center of the white rectangle.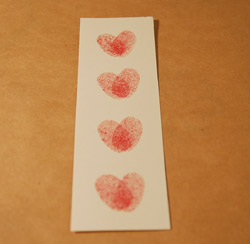 4. Cut off the long edges of the white rectangle with decorator edge scissors.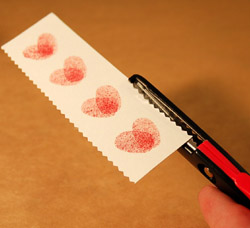 5. Glue the white rectangle to the center of the red bookmark, to frame it. Allow to dry.
6. Use a hole punch to punch a hole near the top. Thread through some ribbon and tie. Here I used velvet ribbon. I applied glue to the inside of the ribbon and attached the other side to it, and allowed it to dry with a clothespin holding it in place until dry.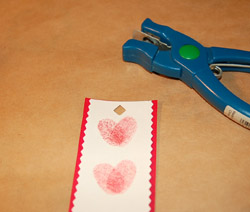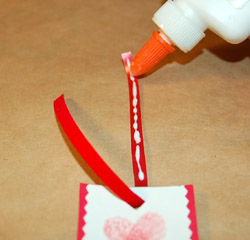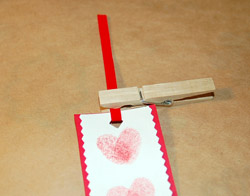 Would you consider a small donation? 
You will receive my craft ebook as a thank you!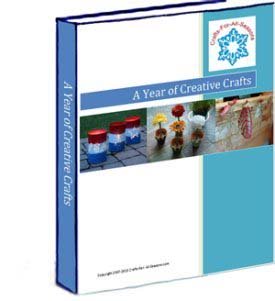 Every little bit helps! If you are enjoying this site, would you consider making a small donation? I use the extra money to help with the cost of craft supplies! With any $5.00 donation or more, you will receive my 650 page ebook full of 178 craft tutorials from this site.  Thank you for your consideration!
Click here to learn more about the book, and to make a donation. 




Home

›

Valentine's Day Crafts

› Thumbprint Heart Bookmark



Home

›

Crafts for Toddlers

› Thumbprint Heart Bookmark



Home

›

Crafts for Preschoolers

› Thumbprint Heart Bookmark



Home

›

Crafts for School Age Kids

› Thumbprint Heart Bookmark



Home

›

Crafts for Teens

› Thumbprint Heart Bookmark