Moss Covered Vases

Moss Crafts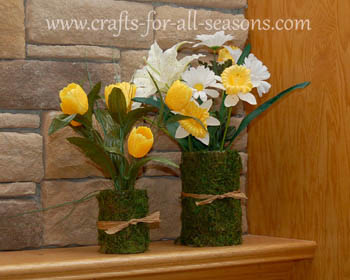 These moss covered vases are made using a sheet of moss that you can buy at craft stores. While vacationing in San Francisco, I saw these moss covered vases at a gift shop in the Ferry Building.
They were very expensive, and I knew I could make them easily. Turns out, they were pretty simple to make.
I will say that working with the moss is very messy. Little pieces of moss fall off and make a mess (and stick to your clothes too) so be sure to cover your work surface so you can clean up easily!
All you have to do is find the right container, cover it by cutting the sheet moss to size, and gluing it in place. If you use something waterproof, they can be used for live flowers.
I bet a grouping of pussy willows would look pretty! I filled these with silk Spring flowers and I think they came out as nice as those expensive ones I saw!
Materials Needed:   
package of sheet moss (found in craft stores, usually in the floral department)
containers to cover (I used a soup can and an oatmeal container)
scissors
ruler
hot glue gun and glue sticks
brown raffia cord
Instructions for Moss Covered Vases

1. Here is what my package of sheet moss looked like, and what the sheet moss looks like when it is opened and unfolded. Remember to cover your work surface for easier clean up. Newspapers will work well.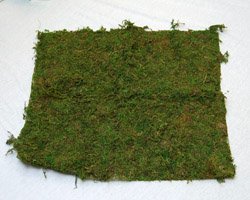 2. Flip to moss over to the smooth side. Measure the length of your container using a ruler, and cut a length of the moss off. Make sure it is long enough to wrap all around the container.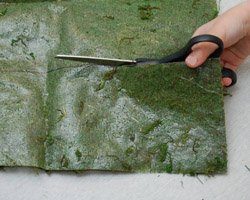 3. Using a hot glue gun, apply a strip of glue on the can or container. Immediately adhere the edge of the moss to the strip of glue. Begin to wrap the can, using glue to hold the moss on. Put another strip of hot glue at the opposite edge of the moss, overlapping it slightly. Once the moss is wrapped around the container, use scissors to trim off any excess that is hanging over the edge.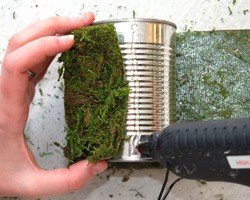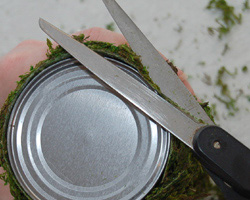 4. Cut a length of raffia. long enough to wrap around the container and tie. Once it is cut, untwist the raffia, as shown. Then, wrap the raffia around the container and tie off.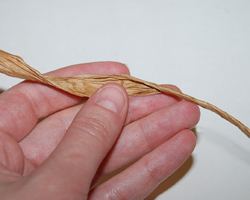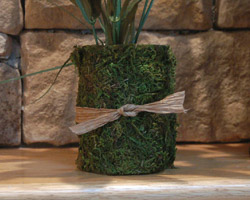 5. Now the containers are ready for you to fill with your favorite things. If you make these, please post pictures of your project and what you are filling them with and using them for. We would all love to see!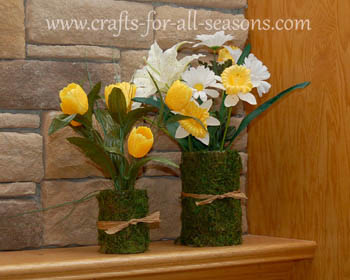 Would you consider a small donation? 
You will receive my craft ebook as a thank you!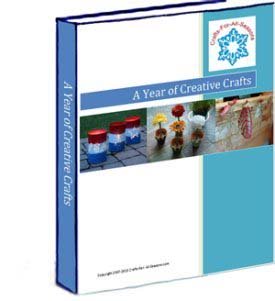 Every little bit helps! If you are enjoying this site, would you consider making a small donation? I use the extra money to help with the cost of craft supplies! With any $5.00 donation or more, you will receive my 650 page ebook full of 178 craft tutorials from this site.  Thank you for your consideration!
Click here to learn more about the book, and to make a donation. 




Home

›

Spring Crafts

› Moss Covered Vases





Home

›

All Occasion Crafts

› Moss Covered Vases



Home

›

Crafts for Adults

› Moss Covered Vases



Home

›

Recycled Crafts

› Moss Covered Vases