Wine Cork Jewelry Display
by Ann Ross
(Fairview Park, OH)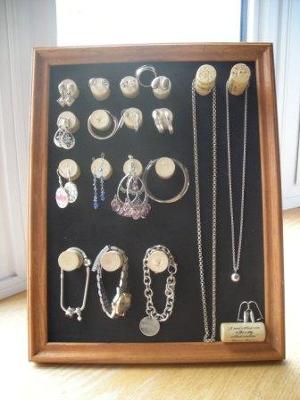 This wine cork jewelry display is a creative way to use up those extra wine corks... and so useful too! These also work great as jewelry displays as craft shows. Just several frames and you can make very inexpensive jewelry displays.

To make this jewelry holder, you will need:

- A tabletop frame (any size that works for your needs)

- Fabric (to cover the background)

- Wine bottle corks (as many as you would like)

- Craft knife

- Glue

Follow these steps:

1. Remove the glass from the frame.

2. Cut some fabric of your choice to the size of the frame and use adhesive spray to attach it to the board that the stand is attached to.

3. Put the frame back together without the glass.

4. Use full sized corks, or cut corks in half with craft knife. FYI, synthetic corks are much easier to cut than natural cork.

5. Arrange the corks in the configuration you desire and glue in place.

As you can see from the picture, I have space for necklaces, bracelets, and various types of earrings. BE CAREFUL cutting the corks-especially the natural kind. If the cork was uneven or bumpy on the bottom, I used some sandpaper to make if flatter.
Would you consider a small donation? 
You will receive my craft ebook as a thank you!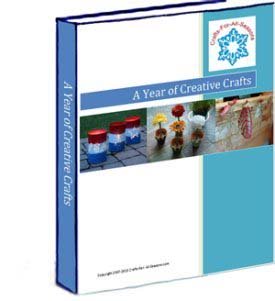 Every little bit helps! If you are enjoying this site, would you consider making a small donation? I use the extra money to help with the cost of craft supplies! With any $5.00 donation or more, you will receive my 650 page ebook full of 178 craft tutorials from this site.  Thank you for your consideration!
Click here to learn more about the book, and to make a donation.