Christmas Candle Vases
by Sandra Hricik
(Palm Harbor, Florida, USA)
Christmas Bird Vase
Materials Needed:

Glass Vase
LED candles or tea lights
Mod Podge
Christmas Tissue Paper or Christmas Napkins
Scissors
Sponge Brush
Craft Glue
Glitter Bling Beads/Snowflake Stickers
Finishing Gloss Spray

Step 1:
Tear tissue paper into various sizes;
if using napkins (as I did with my Chickadee Vase)
separate the white backing from the napkin)

Step 2:
Spread Mod Podge using sponge brush onto vase and
apply tissue paper. Be gentle and try to rub out
any bubbles. If you have some 'wrinkles,' don't worry
as this gives the appearance of a 'crackled' look.
Keep applying tissue paper until vase is covered.

If using a napkin, use same procedure; however, depending
on design, cut out bigger pieces and apply to vase.

Step 3:
Let dry for 1 hour and recoat with Mod Podge.

Step 4:
Apply bling beads, snowflake stickers or ribbons using craft glue. (There are many Christmas stickers you can buy
from Michael's or JoAnn's Craft stores for different looks).

Step 5:
Spray vases with clear finish gloss that is quick drying
and provides a protective hard finish.

Step 6:
Insert the LED or tea lights inside the vases. You can
also insert the lights into a small glass candle holder
before placing into the actual vase.
Would you consider a small donation? 
You will receive my craft ebook as a thank you!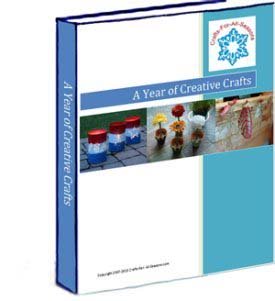 Every little bit helps! If you are enjoying this site, would you consider making a small donation? I use the extra money to help with the cost of craft supplies! With any $5.00 donation or more, you will receive my 650 page ebook full of 178 craft tutorials from this site.  Thank you for your consideration!
Click here to learn more about the book, and to make a donation.