Candy Cane Earrings

These candy cane earrings are made from threading beads onto a length of wire. They are quick to put together, and they look very festive for the holidays.
Do you sell your crafts at craft fairs? This is a great product. Buy in bulk, and then try making up a bunch of these.
The complete instructions below show how easy it is (and inexpensive) to make these.
Materials Needed:   
24 gauge wire
red and white wooden beads (I used 4 mM diameter); you can also use crystals
4 clear seed beads
4 4mM jump rings
2 fish hook earrings
jewerly pliers and wire cutters
Instructions:
1. Begin the earrings by cutting two lengths of 24 gauge wire with the wire cutters, about 2 inches long for each segment.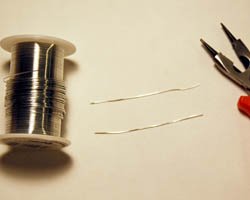 2. Next, bend these two wires into the shape of a candy cane, as shown below.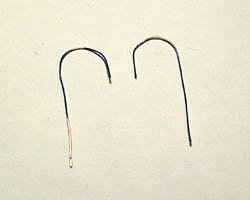 3. Using the jewerly pliers, make a small loop at the short end of the cane shape, so a small seed bead will not fall off.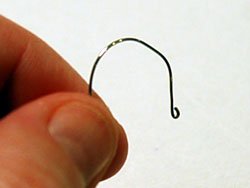 4. Thread on a clear seed bead up to the end of the short end of the candy cane, then start threading on white and red beads. After the first three beads are added, thread on a jump ring.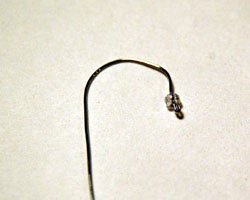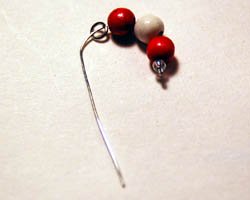 5. Continue by threading beads, alternating between white and red. When it is long enough, thread on a clear seed bead, then make a loop to hold it on using the jewerly pliers.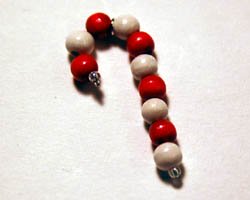 6. Add on a second jump ring to the first ring at the top of the candy cane. Use the jewelry pliers to pry the ring open, thread it on, then tighten. Then add on the fish hook earring finding to the second jump ring. Your candy cane earrings are done and ready to wear!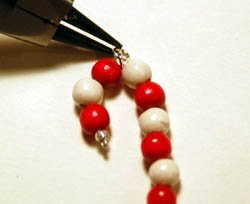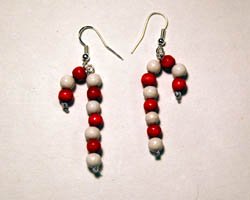 Would you consider a small donation? 
You will receive my craft ebook as a thank you!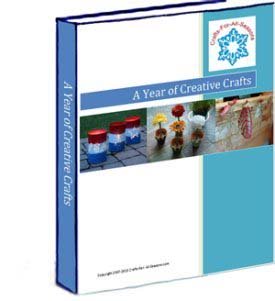 Every little bit helps! If you are enjoying this site, would you consider making a small donation? I use the extra money to help with the cost of craft supplies! With any $5.00 donation or more, you will receive my 650 page ebook full of 178 craft tutorials from this site.  Thank you for your consideration!
Click here to learn more about the book, and to make a donation. 
Home

›

Christmas Crafts

› Candy Cane Earrings