Baby Jesus Ornament
by Wendy Simonitis
(Parma, Ohio)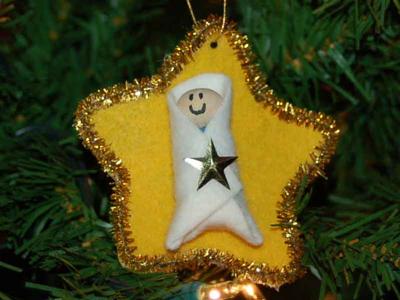 Baby Jesus Ornament
This is a simple craft using felt, a pipe cleaner, and a tiny baby Jesus using a wooden bead.

What you need:

- stiff yellow felt
- glitter glue
- scissors
- wooden bead baby
- 3 inch square of white felt
- black marker
- hot glue gun
- gold sequin star
- star stencil or cookie cutter
- hole punch and cord for hanging

1. Cut out a star from the felt using a stencil or a cookie cutter as a pattern. Outline the star with the glitter glue.

2. Wrap the wooden bead baby with the square of white felt. Secure with hot glue, and attach a gold star on top.

3. Glue the baby to the center of the star. Add a face to the baby with a marker.

4. Punch a hole at the top of the star and add a cord for hanging.

Would you consider a small donation? 
You will receive my craft ebook as a thank you!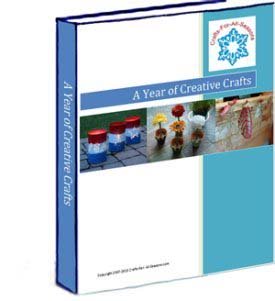 Every little bit helps! If you are enjoying this site, would you consider making a small donation? I use the extra money to help with the cost of craft supplies! With any $5.00 donation or more, you will receive my 650 page ebook full of 178 craft tutorials from this site.  Thank you for your consideration!
Click here to learn more about the book, and to make a donation.