Fingerprint Gift Tags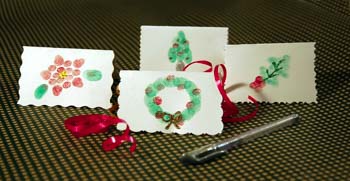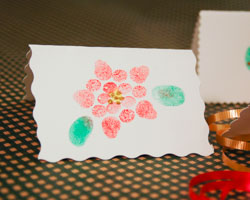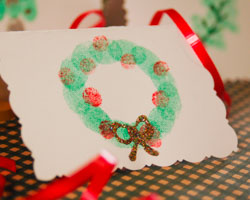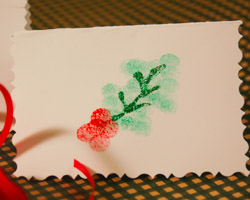 These fingerprint gift tags are simple and fun to make! Your children will love making these, using their own hands!  But this craft is fun for adults too, and makes gift giving extra personal. 

The beauty of this craft is it's so easy to do, inexpensive, and everyone needs gift tags at Christmas time. My family has fun making these every year, and it doesn't take long to make several tags. The person receiving the gift will love the personalized touch!
See how many different designs you can come up with.  I show a few examples here, but you could also try a Christmas tree, a Christmas star, or Rudolph! You could also use black cardstock and make a stnowman using a white stamp pad.  Super cute! 

Materials Needed:

White cardstock
Scissors (fancy edged scrapbooking scissors is a plus, but not necessary)
Stamp pads, in various colors (at least have red and green on hand for Christmas)
Glitter glue in various colors (gold and silver look great)
Your fingers!
Instructions for the Fingerprint Gift Tags

1. Fold the card stock into quarters to make 4 equal squares, and cut along the folds. This will give you 4 squares, enough to make 4 gift tags. Each card will then be folded in half. The outside is for the design. The inside is for the message that can be written, such as "To" and "From".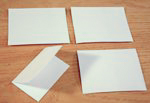 2. If you are using fancy edged scissors, use them to cut along the three free edges of the card, while it is folded, to give nice fancy edges.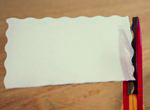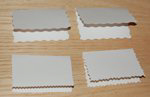 3. Now it is time for the creativity! Use your fingers to stamp various designs. Your fingertip will make smaller rounder dots, the pad of your finger will make larger ovals. Use some of these ideas and come up with some of your own. You can try holly, Christmas trees, stars, ornaments, wreaths, snowmen, candy canes, etc. Try combining a few different colors too.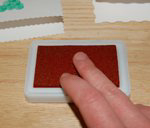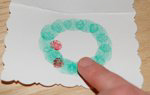 4. Use some glitter glue to add enhancements. For instance, use on Christmas trees to make ornaments, or to outline various thumbprints. Or just use it to dot around the design. The glitter glue adds instant sparkle! Allow the gift tags to dry completely.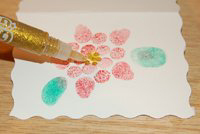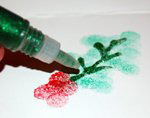 5.  You can punch a hole near the top and add a ribbon to hang this from a gift bag, or you can also use double-sided tape on the back of each tag to attach it to the package.  You can also make your own greeting cards using this technique. 

Would you consider a small donation? 
You will receive my craft ebook as a thank you!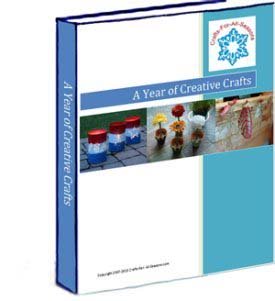 Every little bit helps! If you are enjoying this site, would you consider making a small donation? I use the extra money to help with the cost of craft supplies! With any $5.00 donation or more, you will receive my 650 page ebook full of 178 craft tutorials from this site.  Thank you for your consideration!
Click here to learn more about the book, and to make a donation.