Handprint Snowman Ornament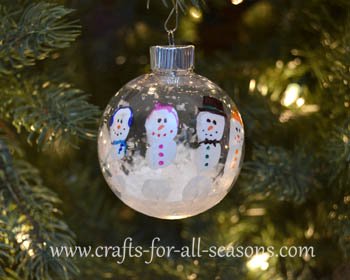 Making a handprint snowman ornament is a fun and easy craft for teachers to do with preschoolers. The homemade ornament can them be sent home with the kids and given to their parents or another loved one as a holiday gift.
The process is pretty simple. Paint your child's hand white, have them hold the clear ball ornament to make an impression, allow to dry, and decorate. The decorating is fun because you do it with colored Sharpies!  If you are doing this in class, allow one day to make the handprints and then let them dry.  The next day you can have the kids add the faces.  If the children are really young, the teacher can add on the decorations.
This is another easy and precious craft that captures a moment in time and will be a cherished memento.
Although glass ornaments can be used, they are not recommended because they can break and cause injury.  Use the clear plastic ornaments, which look just as nice!

Materials Needed:   
Clear plastic ball ornament
white acrylic paint
paint sponge or brush
permanent markers in various colors
fake snow
funnel
glue
Instructions for a Handprint Snowman Ornament
1.  Begin by using a clear plastic ball ornament (glass ornaments should be avoided since they can break). Paint the child's fingers and top part of the palm with the white acylic paint, using a sponge brush or a paint brush. Put it on pretty thick, but not so much that it drips.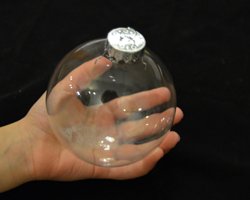 2. Place the clear ball ornament in the child's painted hand, as shown. Then, have the child bend their fingers up to hold the ornament. Remove the ornament and allow it to dry completely.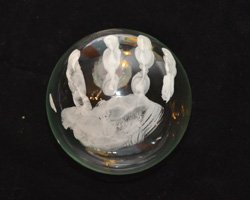 3. Using permanent markers (such as Sharpie or Bic) in various colors, decorate each finger as a little snowman by adding dots for eyes, a nose, buttons, hat, and scarf. You can print the child's name and the year on each ornament too.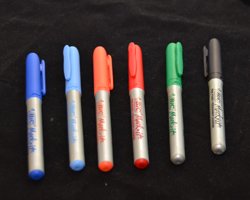 4. Remove the metal top from the ornament and place the funnel in the top hole. Fill the funnel with a bit of fake snow (or glitter) to add some winter sparkle. Glue the metal lid on to the ornament.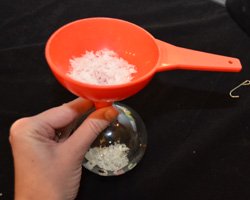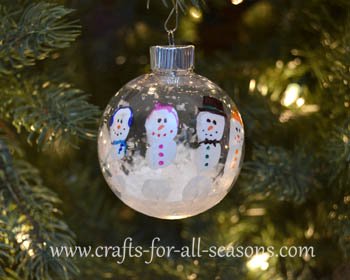 Would you consider a small donation? 
You will receive my craft ebook as a thank you!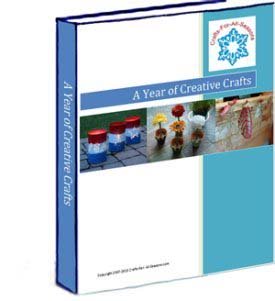 Every little bit helps! If you are enjoying this site, would you consider making a small donation? I use the extra money to help with the cost of craft supplies! With any $5.00 donation or more, you will receive my 650 page ebook full of 178 craft tutorials from this site.  Thank you for your consideration!
Click here to learn more about the book, and to make a donation. 




Home

›

Handprint Crafts

› Handprint Snowman Ornament



Home

›

Christmas Crafts

› Handprint Snowman Ornament



Home

›

Crafts for School Age Kids

› Handprint Snowman Ornament



Home

›

Crafts for Preschoolers

› Handprint Snowman Ornament



Home

›

Crafts for Toddlers

› Handprint Snowman Ornament