Jingle Bell Snowman

A Christmas Ornament Craft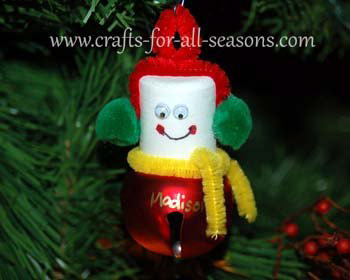 This cute jingle bell snowman can be put together by most school age children. It is also the perfect present for a teacher to make to give to the children as Christmas gifts to take home to their parents.
Each ornament can be personalized with the child's name and year. A perfect gift from the teacher! It is made from common craft items that are usually bought in multi-packs, making them inexpensive and easy to put many together at one time.
Materials Needed for this Christmas Ornament Craft:   
Jingle Bell (colored looks best, I used 1.5 inch size)

1.5 inch Marshmallow bead (soft bead that can be pierced)

2 pom poms, in color of choice
2 googly eyes
1 pipe cleaner
Small length of chenille or ribbon for scarf
Fine tipped markers to draw face
Paint pen to add name (optional)
Scissors
Glue
Instructions for the Jingle Bell Snowman


1. Begin by cutting the pipe cleaner into two 3 inch sections. Take one section and poke it through the side of the marshmallow bead.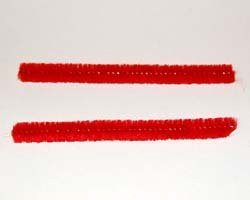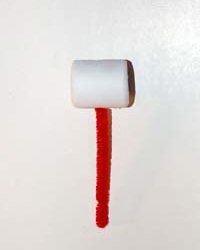 2. Wrap the pipe cleaner around the top of the bead, as shown, and poke it through the other side to attach securely. This is going to be the strap to the snowman's earmuffs.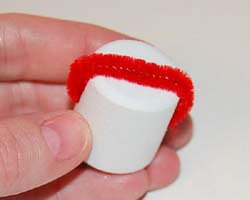 3. Take the next pipe cleaner and fold it in half to create a loop. Cut it down to appropriate size if necessary and pierce it through the top of the bead, near the earmuff strap. This will be the loop for hanging an ornament hook from.

4. Add the face by gluing on some googly eyes, and then use some fine tip markers to draw on some facial features.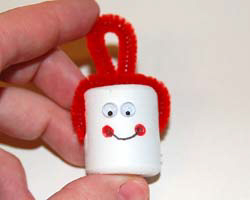 5. Apply some glue to each side of the pom poms, and glue in place on the side of the head, over the ear muff straps.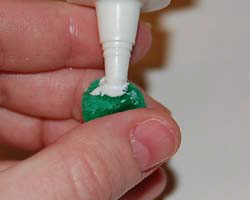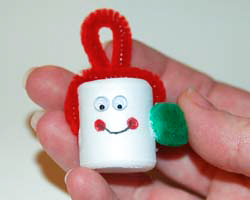 6. Next, add a liberal amount of glue to the top of the jingle bell, and press the marshmallow head on top of the bell. Allow to dry well.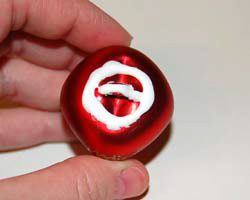 7. Finish up by tying a small amount of chenille or ribbon around the head and the bell for the scarf. Glue into place if necessary. The ornament can also be personalized with a paint pen.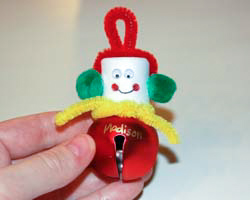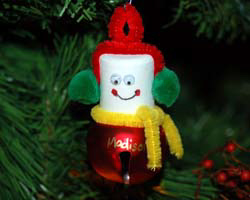 Would you consider a small donation? 
You will receive my craft ebook as a thank you!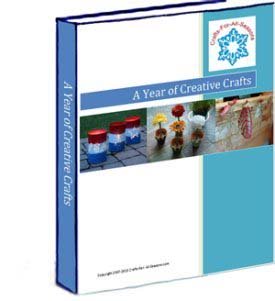 Every little bit helps! If you are enjoying this site, would you consider making a small donation? I use the extra money to help with the cost of craft supplies! With any $5.00 donation or more, you will receive my 650 page ebook full of 178 craft tutorials from this site.  Thank you for your consideration!
Click here to learn more about the book, and to make a donation. 
Home

›

Christmas Crafts

› Jingle Bell Snowman



Home

›

Crafts For Preschoolers

› Jingle Bell Snowman



Home

›

Crafts For Kids

› Jingle Bell Snowman