Christmas ginger bread man
by Sandra White
(Bradenton, FL)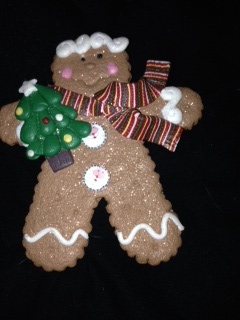 polymer clay gingerbread man
I did not make this but I want to know how. I received this as a gift from someone about five years ago and I've lost contact with her. If anybody knows how to make this please let me know. It is made with polymer clay using a cookie cutter but that's all I know. thanks. I'd like to make poinsettias, snowman, reindeer and other items throughout the holiday how cute would it be to wear these every season.

Thank you.

Response From Crafts For All Seasons:
Hello Sandra! What a cute project. By looking at the photo, it looks like brown polymer clay was rolled out, either using a rolling pin or a pasta maker. Then, the gingerbread shape was cut out using a cookie cutter. If I had to guess, the little Christmas tree may have been formed by pressing green polymer clay into a mold?? It just looks so perfect. That, or your friend really took his/her time by rolling tear drop shapes by hand to form the tree.

The white trim looks like white polymer clay formed into a rope, then cut to appropriate sizes. A tiny brown ball polymer clay nose, and tiny pink ball cheeks! The mouth was formed using a sharp tool, like the tip of pencil. The little eyes look like a hole was made into the clay to create the eye socket, then a tiny black ball of polymer clay was added into the hole for each eye.


Now, the scarf is just beautiful, and this is a bit trickier. Perhaps it is made from a polymer clay cane? Basically, flat, thin layers of polymer clay in different colors are stacked on top of one another. The stack is then pushed together tightly with pressure from your hand. Using a razor blade, thin layers are sliced off through the stack... revealing the layered stripes. These small squares of striped clay may have been added together to form the scarf. I'm not totally sure, since I can't see the detail in the photo. To see example of polymer clay canes, take a look at this project, using canes. This sure is a cute project! Perhaps I'll try to recreate it! I love polymer clay and all you can do with it. Thank you for posting Sandra!
Would you consider a small donation? 
You will receive my craft ebook as a thank you!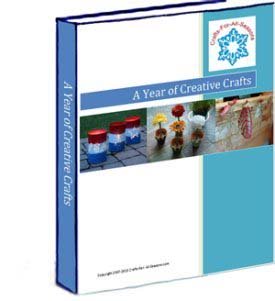 Every little bit helps! If you are enjoying this site, would you consider making a small donation? I use the extra money to help with the cost of craft supplies! With any $5.00 donation or more, you will receive my 650 page ebook full of 178 craft tutorials from this site.  Thank you for your consideration!
Click here to learn more about the book, and to make a donation.