Footprint and Handprint Nativity scene
by Jeanine
(South Dakota)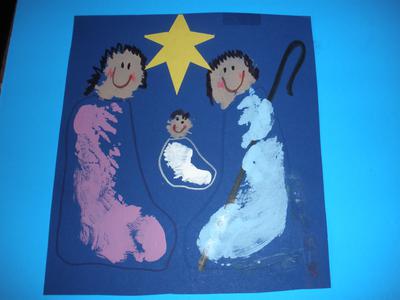 Footprint and Handprint Nativity scene
Here's an easy craft, a footprint and handprint Nativity scene. This is a great Sunday school craft for kids!

Materials:

Blue poster board cut to 10x12


Delta Ceramcoat acrylic paint - flesh, white and 2 colors, one for Mary, one for Joseph


yellow construction paper for the star


various colored markers


Foam paint brushes


Plastic dishpan, paper towels to dry feet
Directions:
Choose a Mary color for one foot and a Joseph color for the other foot (for clothes. Do only one foot at a time. Using a foam paint brush, paint the child's heel the flesh color for the face. Paint the rest of the foot (not the toes) with the clothing color. Wash & dry foot. Repeat for the other color clothing. Let dry.
In the meantime cut out the yellow star. Then make a fist and paint a flesh face for Baby Jesus on the side of the hand just above the wrist line and finish out the fist and curled little finger with white paint. Press between Mary and Joseph. Let dry.
Glue on the star. Use markers to draw faces and hair and outline the clothing shapes.
Our Preschool uses these for Christmas gifts for their parents.
Would you consider a small donation? 
You will receive my craft ebook as a thank you!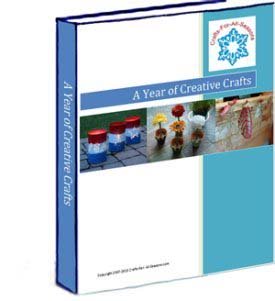 Every little bit helps! If you are enjoying this site, would you consider making a small donation? I use the extra money to help with the cost of craft supplies! With any $5.00 donation or more, you will receive my 650 page ebook full of 178 craft tutorials from this site.  Thank you for your consideration!
Click here to learn more about the book, and to make a donation.