I'm changing the look of this website, but it is a work in progress. You may notice some pages look different than others, until I get the update done.  Thank you for your patience!

Cricut Project Ideas

These Cricut project ideas are crafts and cards I have made that I would like to share with you all. I own a Cricut Expression personal die-cutter machine, and I just love it.
I have been absolutely amazed at the creativity and talent I see from other people's Cricut projects. Project here are more simple. I often don't have all the pretty papers and embellishments on hand, but I thought maybe there are others like me who would like to know very simple instructions on how to make a very simple card, especially if you are in a hurry or don't have many supplies on hand. If so, this page is for you!
When I first began using the Cricut, I found a few things a bit confusing at times. That being said, each project includes all the cut sizes, and even the buttons you need to press so there is no confusion. You will find that each craft page does not include step by step photos; this is because most of the steps are simple and the same (cutting and gluing). I only own a few cartridges, but I hope to add to my collection as time goes by. In addition, I have the Cricut Design Studio Software so some projects also include cut files. You will need the same software and cartridges to use these files. And please, as always, feel free to add your own Cricut project ideas to this page. There is a form to do so near the bottom of the page. Happy Cricuting!
Do YOU have any Cricut Projects you would like to share? It can become its own page on this website. Click here!

Cricut Project Ideas

YOUR Craft Submissions

The Cricut crafts below are all submissions from visitors like you!

Are you enjoying these crafts? If so, I would LOVE a cup of coffee!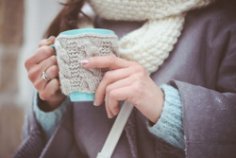 Every little bit helps! If you are enjoying this site, would you consider making a small donation? I use the extra money to help with the cost of craft supplies (and yes, sometimes a cup of coffee too)!  This income keeps me motivated and in the craft room where I belong, to keep creating... so I can continue to share crafts with you all. Thank you for your consideration!