Cricut Sympathy Card

Cricut Card Making Projects

This Cricut sympathy card is is made using the Stamping Solutions cartridge.
Often one doesn't get a lot of advance notice when it is time to send a card expressing our prayers and thoughts to someone in mourning. Although this card is easy to put together quickly, it shows how much you care since it was handmade by you. It says "I'm sorry" on the front, and is embellished with fern fronds. The verse inside was printed on a computer and reads "Caring thoughts and deepest sympathy are with you in your time of loss". The card measures 5" high by 7" wide.

Front: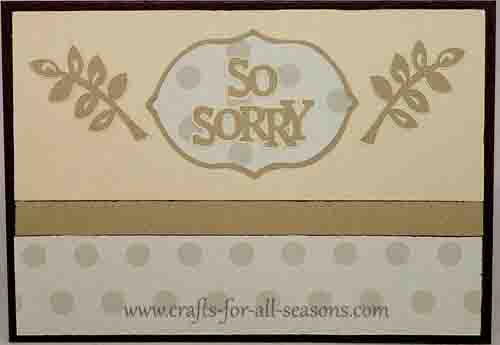 Inside: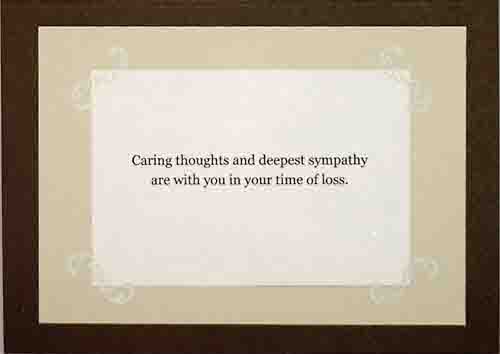 Things Needed to Make this Cricut Sympathy Card:
Stamping Solutions Cartridge
Four coordinating sheets of paper. One should be a patterned paper. The outside sheet for the card should be heavier, such as cardstock.
Paper trimmer with scoring tool, and/or bone folder
Glue stick or pen (for intricate designs I use a fine-tipped Zig pen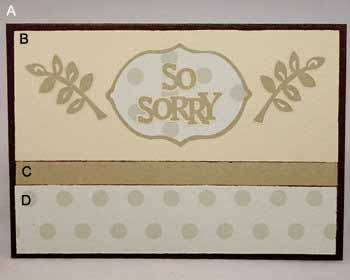 Refer to the letter labels on the above card while reading these directions.
1. Begin the Cricut sympathy card by cutting a solid sheet of cardstock (A) 7"x10". Score the 10" length at 5" and fold in half.

2. Cut (B) paper 4 3/4" x 6 3/4". Glue to front of (A). Note: I used a stamp pad and smudged it around all the edges of these papers in steps 1-3 to make them "pop" out visually; this is optional.

3. Cut (C) paper 2" x 6 3/4". Align to bottom of (B) and glue.
4. Cut patterned paper (D) 11/2 " x 6 3/4". Align to bottom of (C) and glue.


Now for the cutting on the Cricut!
Tip: To save time, load sections of (B), (C), and (D) on the mat all at one time so you don't have to keep unloading your mat. Just reposition the blade using the arrows to the new section of paper where you would like to cut. You'll be done in no time!


5. For paper section (D):

Select the oval frame, (button 45). Press "blackout". Size: 2 inches.
6. For paper section (C):

Select the oval frame, (button 45) (or hit "repeat last"). Press "shadow". CUT. Glue this behind the patterned tag.
Select "So Sorry", (button 26). Size: 1

1

/4

". CUT.
For the fern fronds, select "with gratitude", (button 9), and hit "Shift". Size: 1". CUT.
Select "repeat last", and select "flip". CUT.
7. For paper section (B):
Select "So Sorry", button 26. Select "shadow" Size: 1

1

/4

". CUT.
8. The inside verse of the Cricut sympathy card was printed on a computer on cream colored paper, and I cut and matted these by what looked pleasing to the eye. I decorated the corners of the verse with a few extra cut embellishments I had from the Accent Essentials cartridge.
Would you consider a small donation? 
You will receive my craft ebook as a thank you!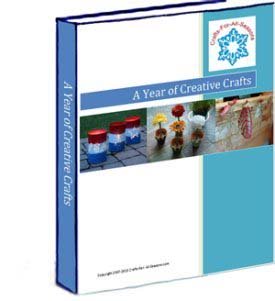 Every little bit helps! If you are enjoying this site, would you consider making a small donation? I use the extra money to help with the cost of craft supplies! With any $5.00 donation or more, you will receive my 650 page ebook full of 178 craft tutorials from this site.  Thank you for your consideration!
Click here to learn more about the book, and to make a donation. 
Home

›

Cricut Crafts

› Cricut Sympathy Card