CD Purse Craft
by Sujutha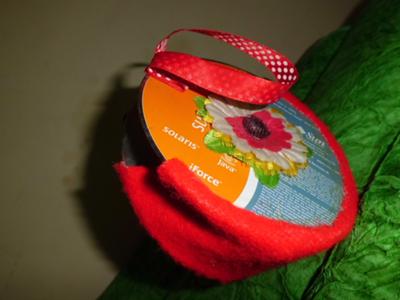 CD Purse Craft
Oh, what to do with those old, scratched up CDs? Have any of those around? For some reason, I always feel guilty when I go to throw them away. Here is how I made a cute little CD hand bag. It is easy to make and you will put those CDs to good use instead of just tossing them in the garbage.

Materials Needed:
- Two old CDs or DVDs
- Felt cloth
- Scissors
- Glue Stick
- Artificial flower or other embellishment
- Satin ribbon

Directions:

Measure the felt so you have enough to create the bottom of the purse, leaving some edging to glue around the CD. Leave a little breathing room too so you can some space to put things in the purse. Take the two CD's, and glue the felt in place using a glue stick. When it is dry you can use the hole that is in the center of the CD to stick an artificial flower in. Now it is time to fix up the handle of the bag. Use some satin ribbon, cut it to the length of your choice, and glue it on to the bag.

Your CD purse is now ready to use!
Click Here to Order my 650 page ebook,
A Year of Creative Crafts
.
Work From Home
- I've turned my passion for crafting into an extra income with Crafts-For-All-Seasons.com - find out how you could do the same.