I'm changing the look of this website, but it is a work in progress. You may notice some pages look different than others, until I get the update done.  Thank you for your patience!

Christmas Tree Craft

This Christmas tree craft is a classy and contemporary way to decorate your home this holiday season! These can be whipped up in less than a half hour, and the end result is really a simple and classic decoration, that looks good anywhere.
These trees are made by wrapping foam cones with ordinary crepe paper, the kind used to decorate for birthday parties. They can be made to match any decor, in shades of red, blue, gold, silver, etc. These are great choices to make for Christmas craft bazaars, since you can buy the foam cones in bulk and one roll of crepe paper can make several trees.
Materials Needed:   
3 foam cones in different sizes (I used a 12 inch, 9 inch, and 6 inch cone)
Roll of crepe paper streamers, in whatever holiday colors you choose
Gold sequin stars (the exact size I used was 17 mm)
Gold straight pins
3 Gold pipe cleaners
Scissors
Instructions for the Christmas Tree Craft:

1. Begin your Christmas tree craft by wrapping each cone with crepe paper. Begin at the bottom, and wrap the crepe paper around the base twice. Wrapping it twice helps conceal the white foam underneath. Hold in place with your fingers (or push a straight pin in after the first wrap, and then cover the pin when you wrap it around the second time).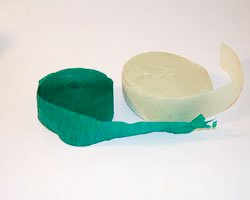 2. Continue the wrap the crepe paper around the cone, overlapping the previous row by half. Keeping working your way up to the top. When you get to the top, let about half of the crepe paper hang above the top.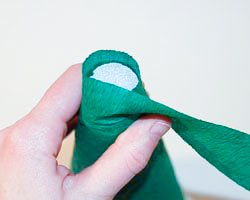 3. To secure the top, wrap the edges over the top as if you are wrapping a present, then secure with one small straight pin.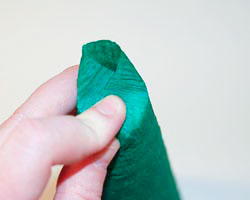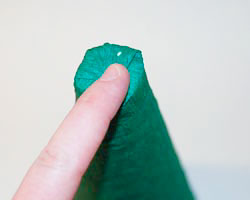 4. Next, gather your gold pins and gold stars. Thread a gold pin through each gold star, then push these into the cones sporadically all around the Christmas tree.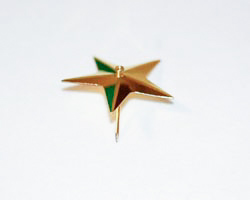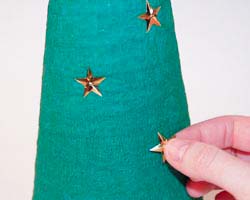 5. To make the gold star at the top of the Christmas tree craft, bend a gold pipe cleaner in a star pattern. I personally like the shape when it is not a perfect star, I think it makes the design look more whimsical. However, if you would like to use a template, the perfect way to do the bending is to wrap the pipe cleaner around a star cookie cutter. Leave a tail on the edge of one star so you can poke this pipe cleaner into the top of the cone tree.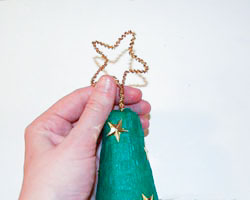 This Christmas tree craft looks great displayed in groupings on a mantle, on a shelf, or near the base of your Christmas tree.