I'm changing the look of this website, but it is a work in progress. You may notice some pages look different than others, until I get the update done.  Thank you for your patience!

Coffee Filter Angel

This coffee filter angel craft is very easy to make, yet it looks very impressive. This craft is easy enough for most children to make, all by themselves. She will look very elegant hanging as an ornament on your Christmas tree.
These are hot sellers at craft fairs, and they are inexpensive to make. The Styrofoam cones and balls, and the gold rings, are usually sold in multi-packs. This makes it cheaper to make several angels than just one, perfect for Sunday school projects.
This angel would make a wonderful gift! If you would like to see another craft project using coffee filters, be sure to check out the coffee filter butterfly!
Materials Needed:   
3 white pleated coffee filters
One 3.5 inch Styrofoam cone
One 1 inch Styrofoam ball
One toothpick
One gold ring (these are found in craft stores, in the aisle for making wedding favors)
Gold ribbon
White thread
Hot glue gun, or use a pin (hot glue may want to be avoided if this is a children's project)
Instructions for the Coffee Filter Angel Craft:
1. Begin your coffee filter angel craft by placing a coffee filter over the Styrofoam cone. Then, place a toothpick through the top of the coffee filter, pushing it at least half way into the cone to hold it in place.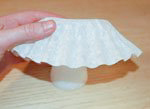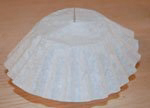 2. Next, pierce the Styrofoam ball through the toothpick to hold it in place.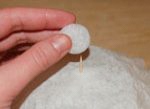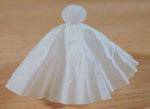 3. Place another coffee filter over the ball. Cut a strip of gold ribbon and tie it tightly around the bottom of the ball, to define the head of the angel. Tie the gold ribbon in a nice bow (thin wire-edge ribbon is great for this).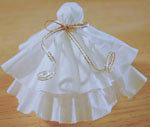 4. To make the wings, take the third coffee filter and fold it in half lengthwise. Next, gather and pleat the coffee filter in the middle, as shown. Then tie the middle area together with a small piece of white thread. Then, hot glue the middle of the wings to the back of the angel, right below her head (adults should do the gluing). Or, the wings could also be pinned using a straight pin, piercing the wings into the Styrofoam cone.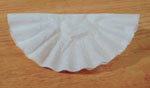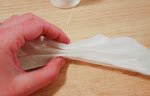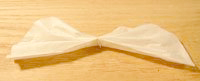 5. Glue the gold ring on top of the angel's head. The angel can just stand alone or a ribbon or thread could be added to her back for hanging on the Christmas tree. .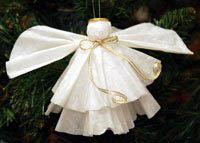 Are you enjoying these crafts? If so, I would LOVE a cup of coffee!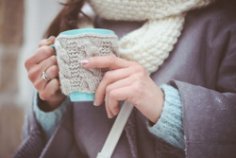 Every little bit helps! If you are enjoying this site, would you consider making a small donation? I use the extra money to help with the cost of craft supplies (and yes, sometimes a cup of coffee too)!  This income keeps me motivated and in the craft room where I belong, to keep creating... so I can continue to share crafts with you all. Thank you for your consideration!