Printable Mother's Day Card
Pick between three printable Mothers day cards to make the perfect homemade greeting for Mom.
Why? Because store bought greeting cards are expensive, and your mother is sure to be impressed that you made this card yourself. It will mean so much more to her that it was made by you!
Pick between three different cover designs, and then pick between three different verses. The design on the front of the card is cut out, and a piece of fabric is placed behind. You can get very creative with this project, adding in scrapbook paper or different textures of fabric behind the cut out to make a very unique look. This is a quarter-fold card, measuring 4 3/4" x 5 1/2 " card, so it is the perfect size to fit in a standard A5 envelope.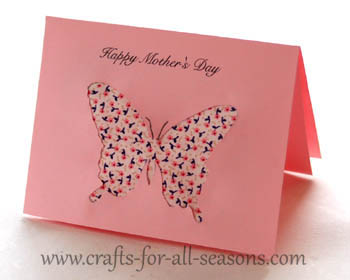 Things Needed for Printable Mother's Day Card:

Computer printer with black ink
Two pieces of 8 1/2 x 11 inch cardstock in coordinating colors
Scissors and exacto knife
White glue
Fancy edge scrapbooking scissors
Small piece of scrap fabric, in colors that coordinate with the card stock colors.
1. Begin by choosing what cover design you would like for the printable mothers day card. Choose between a heart, butterfly, or the words "MOM". If this craft is for a child, the heart is the easiest design and an exacto knife is not needed, as the heart can be cut out with scissors. The other two designs will need an exacto knife. The photos below show completed cards of the three different cover designs to help you choose. Click on the link below to open up a PDF file of the card to print. Print out the card on the desired color card stock.
Butterfly Printable Card - Click Here
Heart Printable Card - Click Here
MOM Printable Card - Click Here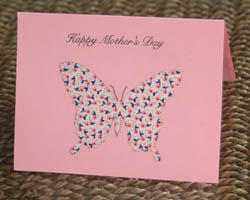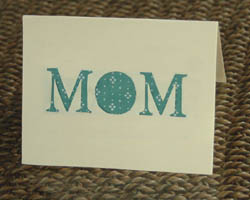 2. Next choose which verse you would like for the inside of your card. Once you choose one, click on the link to open the template and print this out on a piece of contrasting cardstock.
For Verse 1, Click Here:
A Mother's Day wish to say you're loved Far more than words can tell-- Not just on special days like this, But every day as well.
For Verse 2, Click Here.
To wish you "Happy Mother's Day" and especially tell you, too That there couldn't be a mother loved any more than you! Have a Happy Mother's Day!
For Verse 3, Click Here.
Thinking of you on Mother's Day and wishing you everything A happy day, A happy heart, A happy year can bring! Have a Wonderful Day!
3. Next, place the card on top of a cutting mat or magazine to protect your work surface. Cut out the design using an exacto knife. Take your time, and for best results try to cut slightly outside of the black outline so you won't see any of the outline when your finished.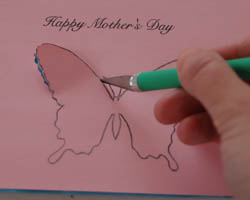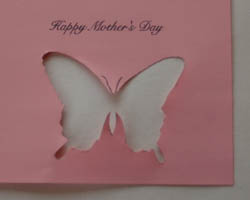 4. Fold the card in half lengthwise, as shown. On the back side of the design, apply glue all along the edges of the cut out design, then place your small piece of fabric down on top of this, and allow to dry. Add some glue to the edges of the paper to secure the folded card.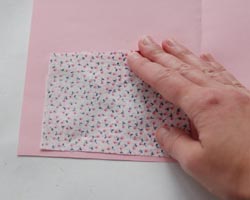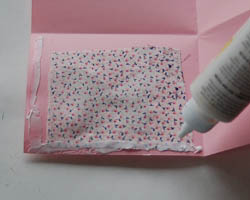 5. Cut out the square with the verse on it with fancy edge scissors. Stay just inside the square when cutting so you will not see the outline. Glue this inside of the card.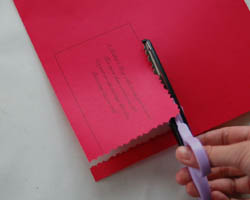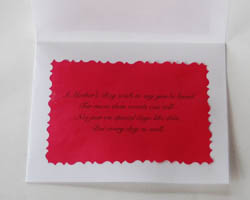 Like This Page?
Click Here to Order my 650 page ebook,
A Year of Creative Crafts
.
Work From Home
- I've turned my passion for crafting into an extra income with Crafts-For-All-Seasons.com - find out how you could do the same.