Fingerprint Gift Tags
These fingerprint gift tags are a joy to make! Your children will love making these, using their own hands!
The beauty of this craft is it's so easy to do, inexpensive, and everyone needs gift tags at Christmas time. My family has fun making these every year, and it doesn't take long to make several tags. The person receiving the gift will love the personalized touch!
Things Needed:


White cardstock
Scissors (fancy edged scrapbooking scissors is a plus, but not necessary)
Stamp pads, in various colors (at least have red and green on hand for Christmas)
Glitter glue in various colors (gold and silver look great)
Your fingers!
---
1. Fold the cardstock into quarters to make 4 equal squares, and cut along the folds. This will give you 4 squares, enough to make 4 gift tags. Each card will then be folded in half. The outside is for the design. The inside is forthe message that can be written, such as "To" and "From".
2. If you are using fancy edged scissors, use them to cut along the three free edges of the card, while it is folded, to give nice fancy edges.

3. Now it is time for the creativity! Use your fingers to stamp various designs. Your fingertip will make smaller rounder dots, the pad of your finger will make larger ovals. Use some of these ideas and come up with some of your own. You can try holly, Christmas trees, stars, ornaments, wreaths, snowmen, candy canes, etc. Try combining a few different colors too.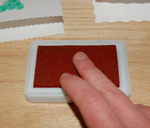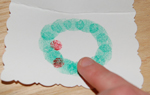 4. Use some glitter glue to add enhancements. For instance, use on Christmas trees to make ornaments, or to outline various thumbprints. Or just use it to dot around the design. The glitter glue adds instant sparkle! Allow the gift tags to dry completely.

Like This Page?
---
Back to Home › Christmas Crafts › Fingerprint Gift Tags

Click Here to Order my 650 page ebook,
A Year of Creative Crafts
.
Work From Home
- I've turned my passion for crafting into an extra income with Crafts-For-All-Seasons.com - find out how you could do the same.