This spider craft is an easy Halloween project for children. The spider has a foam ball body and pipe cleaner legs.
Children can get really original with the spider's face. They can make it scary, funny, realistic, or just plain cute!
This spider looks great sitting on its own, or a black thread or clear fishing line can be used to have it hanging, a very eerie effect!
1. Begin the spider craft by painting the foam ball black. You will need to do this in two steps. Let one side dry and then flip it over to paint the other side.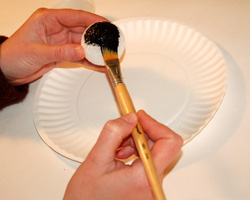 2. Cut the two 12 inch black pipe cleaners into 4 sections each, each section will be roughly 3 inches long.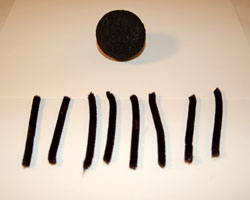 3. Push the 3 inch pipe cleaners into the side of the black ball, four per side.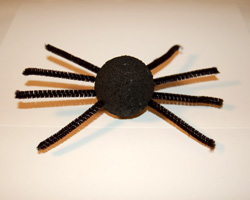 4. Bend each pipe cleaner leg in the middle, downwards at a 90 degree angle. Now the spider can stand!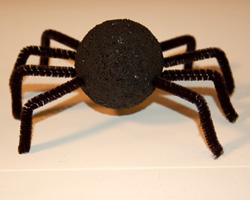 5. Add a face to your spider craft. Encourage your kids to get original here. I chose to glue on googly eyes, and I gave him eight eyes. The children can make the face features out of construction paper and then glue them on.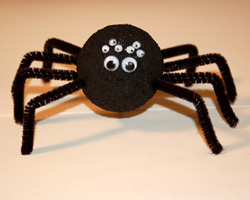 6. If you want to hang your spider craft, this can be done by pushing a straight pin (one with a large head is best) into the top of the spider. This gives you something to wrap and knot the thread around.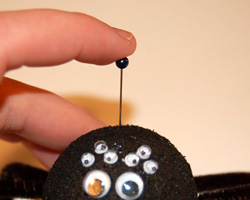 7. Now, decorate with your spiders! These look great in groupings, hanging from the ceiling. Or, you can try a mobile of spiders. They also look great outside by the door, especially if you decorate with those large fake spider webs! The spiders also look great on buffet table if you are hosting a Halloween party.
Click Here to Order my 650 page ebook,
A Year of Creative Crafts
.
Work From Home
- I've turned my passion for crafting into an extra income with Crafts-For-All-Seasons.com - find out how you could do the same.