Coffee Filter Butterfly
Preschool Arts and Crafts
Making a coffee filter butterfly is a wonderful preschool arts and crafts project.
This project can easily be set up in the classroom. It is easy to do, and inexpensive to make. The wings of the butterfly are made from a white coffee filter, which is decorated with colored water. The body is a wooden clothespin.
These can be made as a Spring craft or given away as Mother's Day presents. Want another craft to make using coffee filters? Check out the coffee filter angel craft too!



Things Needed for one Butterfly:

white coffee filter
food coloring
eye dropper
small container to hold colored water
water
wooden clothespin
black paint
paint brush
black pipe cleaner
paper towels and newspaper to protect work surface
---
1. Begin by setting up your work station. Protect the work surface with newspapers, and place a paper towel under the coffee filter because the water will seep through. Fill small containers with a tablespoon or two of water and add at least 3 drops of food coloring to each cup. The more food color you add, the more vibrant the butterfly will be.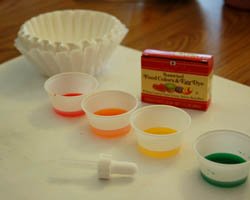 2. Have the child draw up some colored liquid with the eyedropper and squeeze it on the coffee filter. The water will seep through the coffee filter, so be sure to have a paper towel underneath it. Continue adding color until the entire coffee filter is saturated.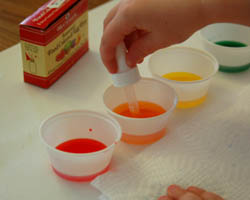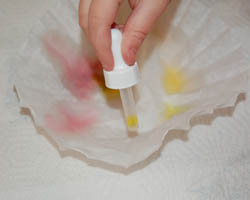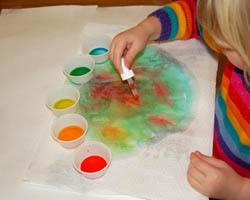 3. Allow the coffee filters to dry completely. Here's a picture of what they look like when they dry.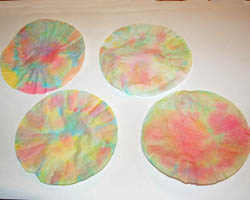 4. Have the child paint a wooden clothespin black, and allow to dry.
5. Next, take the coffee filter and pinch it in the middle, as shown. Then open up the clothespin and attach it to the middle of the wings.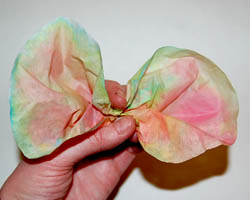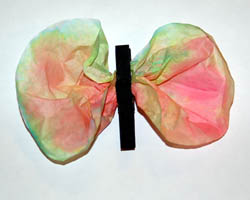 6. To make antennae, take a small black pipe cleaner and twist it once around the top of the clothespin. The coffee filter butterflies are now ready to be hung in the classroom, be made into magnets as a gift for Mom, or attached to a present as a decoration!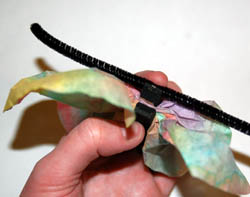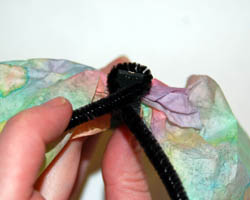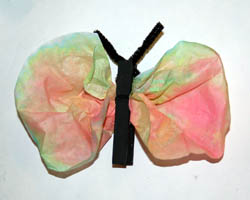 Like This Page?
Click Here to Order my 650 page ebook,
A Year of Creative Crafts
.
Work From Home
- I've turned my passion for crafting into an extra income with Crafts-For-All-Seasons.com - find out how you could do the same.